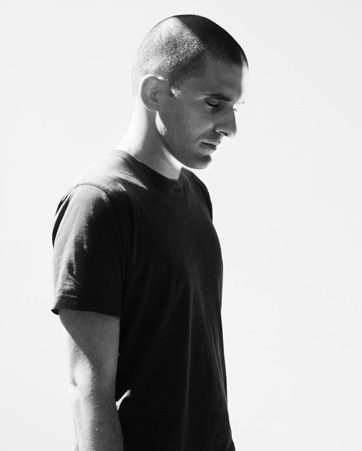 Lacoste Creative Director Felipe Oliveira Baptista | Photo Credit
As I've mentioned before, I'm not the most athletic girl in the world – as Carrie Bradshaw once said, "shopping is my cardio."
Given my lack of athleticism, I don't usually pay attention to clothes people wear when they're working up a sweat. But when Felipe Oliveira Baptista took over as Creative Director of Lacoste, I knew it was time to take notice of the typically tennis-associated line.
Want to learn more about Felipe Oliveira Baptista and Lacoste? Keep reading for ten fun facts on the creative director and an outfit inspired by the brand!
(Have you missed a part of our series before? Start procrastinating on those midterms and read up on the brains behind J.Crew, Free People, H&M, J. Brand Jeans, Coach, Nike, Madewell, TOMS, and Banana Republic.)
10 Fun Facts about Felipe Oliveira Baptista and Lacoste: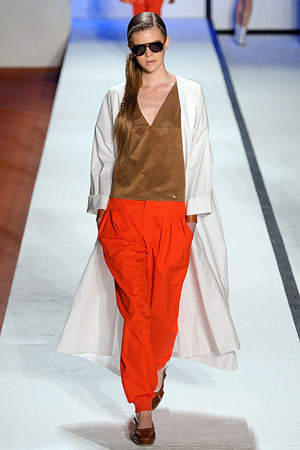 A look from the Lacoste Spring 2011 RTW collection | Photo Credit
Felipe was born in Portugal in 1975, and graduated from Kingston University with a degree in Fashion Design in 1997.
He worked as a designer for Max Mara, Christophe Lemaire, and Cerruti from graduation until 2001, and in 2003 he launched his own namesake label.
His own label has long been known for "conceptual constructions and techno colorations," two elements he now incorporates into his designs for Lacoste.
Felipe joined Lacoste in 2010, and his first collection (Spring 2012) debuted this September. He replaced Christophe Lemaire, who went to Hermes.
Baptista wanted to make Lacoste new and fresh without compromising the iconic styles that customers favor. "The traditional customer is always going to have their things," he said.
One way the brand has evolved since Felipe joined the Lacoste team? Fewer crocodile logos! "…The idea was to make Lacoste something you can wear head-to-toe, and if you wear it head-to-toe, you don't want 10 crocodiles on your outfit," he said.
And although he's worked to redesign Lacoste's global image, Felipe says there are plenty of things that attracted him to Lacoste in the first place, including "the sportswear, the easiness, the chicness and the relaxed attitude."
In addition to his own collection and his work at Lacoste, Baptista designed a capsule collection for Uniqlo and collaborated with Nike.
He now calls Paris his home – and loves it (who wouldn't?), saying "It's like living in a museum. The city is so inspirational. There's chicness and intimacy nearly everywhere."
When he's not wearing clothes he designed for himself, he wears Jill Sander, Balenciaga, Acne jeans and "Lacoste, of course."
Outfit Inspired by Felipe Oliveira Baptista and Lacoste: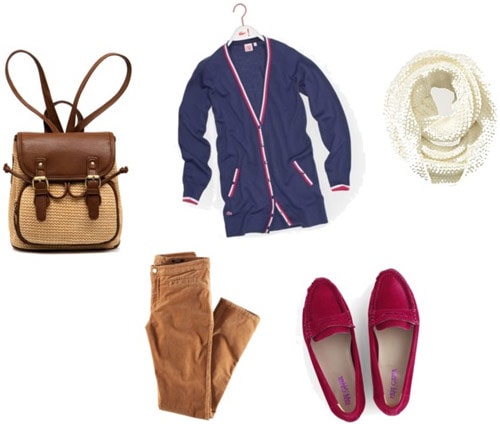 Outfit Details: Backpack, Sweater (similar style), Scarf, Loafers,Cords
We've all been there – sometimes, the last thing you want to do is get up and put effort into getting dressed for class. Luckily for those of us who stay up all night studying (or watching Dexter…), Lacoste's classic preppy ease is perfect inspiration for put-together-in-a-flash ensembles.
A cute, classic-colored cardigan paired with comfortable cords and a bright pair of loafers is just as easy to throw on as a pair of sweats and a t-shirt. If it's getting chilly by you, top it off with a cozy scarf to keep warm. Throw your things in a structured backpack, and you're sure to look like you made a huge effort that morning… even if it only took you 5 minutes to get ready.
What do you think of Lacoste?
Do you like the changes Felipe is making at Lacoste? Have you been a fan of their polos and tennis gear before? Tell us about it! As always, if we've missed any of your favorite brands or stores – tell us! We'd love to cover them next.