This post may contain affiliate links, which means we may receive a commission if you purchase through our links. Please
read our full disclosure here
.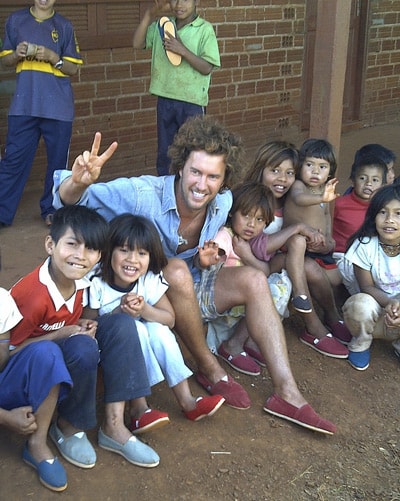 TOMS CEO Blake Mycoskie with children in Argentina | Photo Credit
You see them everywhere – on the walk to class, while you're hanging out with friends, and multiple times a month here at CF (I'm sure you've noticed we're fans). Indeed, TOMS shoes are comfortable, versatile, affordable and – best of all – each pair you buy helps people all over the world.
We're all familiar with the "One for One" logo, but do you know the story behind the makers of TOMS? From CEO Blake Mycoskie to the designers of their latest line, TOMS' journey from Mycoskie's dream to the feet of college students everywhere is an amazing one.
Keep reading to learn more about the TOMS team and to see an outfit inspired by TOMS!
(Missed any part of our "Who's that Designer?" series? Impress your friends…read up on the brains behind J. Crew, Banana Republic, Free People, H&M, J Brand, and Nike)
10 Fun Facts about TOMS:

The TOMS Philosophy | Photo Credit
TOMS originated when 35-year-old CEO Blake Mycoskie participated in the reality show The Amazing Race with his sister. Although he didn't win, Mycoskie spent time in Argentina, which gave him the idea for the company.
On a trip back to Argentina in 2006, Mycoskie realized that many of the children he met had no shoes to protect their feet – a problem in developing countries, where many diseases are soil-transmitted – and TOMS was born.
Before starting TOMS, Mycoskie owned multiple small businesses. Right before he developed the company, he had an online driving school business.
TOMS was started with just $5,000, and Blake admits the scariest part of the venture was in years two and three, when there were some "cash-flow" problems. "We went a year [where] every day someone was calling us, yelling, asking for money," said Mycoskie.
What really helped the company get off the ground? TOMS credits this AT&T commercial with helping them gain popularity, alongside grassroots and social media efforts.
Since the founder's name isn't Tom, wondering where that name came from? Blake said the original name for the company was supposed to be "Tomorrow's Shoes", because a pair of shoes was supposed to be given away the day after a purchase. But that was too long, so he settled on TOMS.
We told you all about TOMS' new college-inspired line, but did you know Mycoskie has another venture in the works? He recently published a book, titled Start Something That Matters, to tell the TOMS story. For every book sold, a schoolbook is given to a child in need.
The TOMS design is modeled after the traditional alpargata shoes Mycoskie wore while in Argentina (we know them better as espadrilles). Many styles of the shoe are offered in vegan form, and all of the shoes are currently manufactured in Argentina, China and Ethiopia.
TOMS' newest collection – The Desert Collection – was conceptualized by TOMS design directors Carlo and Sean, who oversee product development and design concept. They used the recent androgynous boot trend mixed with the classic TOMS style as inspiration.
And for you high-fashion lovers (or Mary Kate and Ashley lovers…I'm definitely in that group), The Row and TOMS did a collaboration – check out their Italian wool and cashmere creations!
Outfit Inspired by the TOMS Team and TOMS Shoes: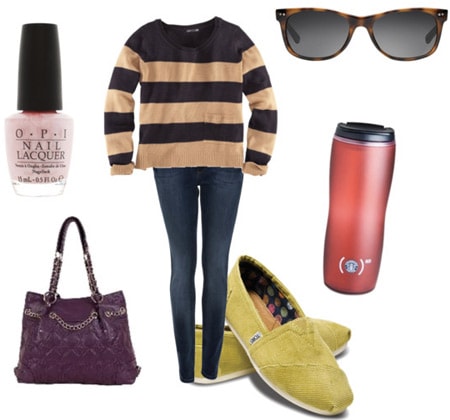 Nail Polish, Sweater, Sunglasses, Mug, Shoes, Jeans, Bag
Like I said, we've done tons of TOMS-related posts here at CF – we've shown you everything from ways to ways to customize your TOMS to four great summer outfits featuring a pair of TOMS. But this time around, I was inspired by the TOMS mission – one for one – so I created an outfit that's not only great for a crisp fall day on campus, but gives back, too!
To start, all you need is a cozy sweater and a roomy bag, both in deep fall hues. Next, load up on accessories that give back to AIDS research and awareness, breast cancer awareness, and the "one for one" campaign. There's no better excuse to splurge than when your money goes to charity!
What do you think of TOMS Shoes?
Are you as crazy about TOMs as we are? Do you have a favorite item that gives back to a good cause? Tell us about it! Have we left any of your favorite stores out of our "Who's that Designer?" column? Let us know and we'll cover them!