This post may contain affiliate links, which means we may receive a commission if you purchase through our links. Please
read our full disclosure here
.
Barbara Bradley Baekgaard (left) with Co-Founder Patricia R. Miller | Photo Credit
Do you love to travel? I can't imagine anything more fun than a road trip with my boyfriend, but one thing I don't love about the process is packing for it. I can never decide what to bring, and I always end up with way more than I actually need (like 7 pairs of shoes for a two day trip).
Yet one thing I always do when getting away is use Vera Bradley products to pack my belongings. From their huge duffel bags to their tiny makeup cases, the pretty patterns in washable fabrics have never failed me – and it's all thanks to Barbara Bradley Baekgaard, the Co-Founder and Chief Creative Officer of the company.
Want to learn more about Barbara Bradley Baekgaard and Vera Bradley? Keep reading for ten fun facts on the CCO and an outfit inspired by her and Vera Bradley.
(Missed a part of our series? Shock your family at Christmas dinner with your knowledge on J.Crew, Free People, H&M, J. Brand Jeans, Coach, Nike, Madewell, TOMS, Lacoste, Banana Republic, Anthropologie and Topshop.)
10 Fun Facts about Vera Bradley Chief Creative Officer Barbara Bradley Baekgaard
A Vera Bradley holiday shot | Photo Credit
Barbara co-founded Vera Bradley in March of 1982, when she was waiting for a flight in Atlanta and noticed a lack of feminine-looking luggage. Barbara said she borrowed $250 from her husband to start the company, and within a year she had made over $10,000.
Barbara said one fun fact she's reluctant to admit is that she used to be a professional water skier, due to a move from Winnetka, Illinois to Miami Beach, Florida that took place in the middle of a school year.
The company is named after Barbara's mother, Veronica Bradley, who was handpicked by Elizabeth Arden herself to model for the company in the 1930s.
The 5 necessities she keeps in her bag? "Wallet, iPod, makeup, cellphone and keys."
Barbara said she gets ideas for designs from a yearly trip to Milan, Rome and Paris, where she studies the colors and trends that "haven't made their way to the states yet."
After she lost a friend to breast cancer in the early 1990s, Barbara and co-founder Patricia established the Vera Bradley Foundation for Breast Cancer, which has donated more than $10 million to the Indiana University Cancer Center. Barbara also serves as a board member for the foundation.
Barbara believes her greatest successes have been her children, grandchildren, and marrying her husband, Peer.
Barbara considers keeping up with family a "huge priority" and said her biggest challenge is keeping track of the birthdays of her four children and 12 grandchildren.
Although the Vera Bradley company is based in Indiana, Barbara enjoys spending most of her time in New York City or at her home in Seaside, Florida.
Her advice for those who are looking to start their own companies? "If you have an idea, run with it. Don't think twice, just go with it like I did."
A Look Inspired by Barbara Bradley Baekgaard and Vera Bradley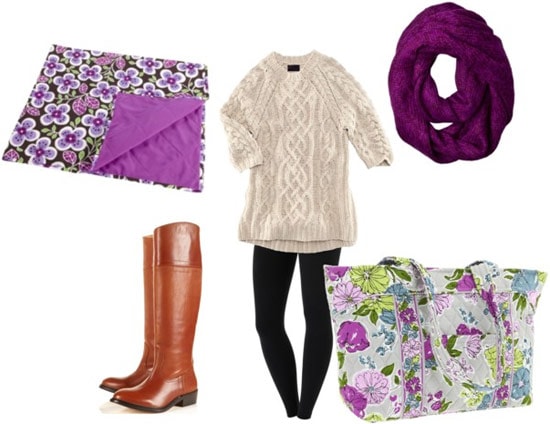 Blanket, Sweater Dress, Scarf, Bag, Leggings, Boots
No matter how far I'm going, I always try to be as comfortable as possible when I travel. Stretchy leggings, a sweater dress and scarf allow you to look polished enough to stop for a good dinner, yet comfortable enough to relax and play car games while on the road. Your clothes and essentials will fit into a large Vera tote, and if you're lucky enough to be the passenger and not the driver, a coordinating blanket will keep you warm during a short nap.
What do you think of Vera Bradley?
Do you like Vera Bradley bags, or do you find them too ubiquitous on your campus? Did this brand's story inspire you? Tell us about it! Have we missed a brand that you want to know more about? Leave us a comment and we'll cover it in our next installment!