This post may contain affiliate links, which means we may receive a commission if you purchase through our links. Please
read our full disclosure here
.
What Should I Wear…?! is a biweekly column that is here to answer that very question. If you have an event coming up that has you stumped fashion-wise, this is guaranteed to be your best source for outfit inspiration when you need it the most!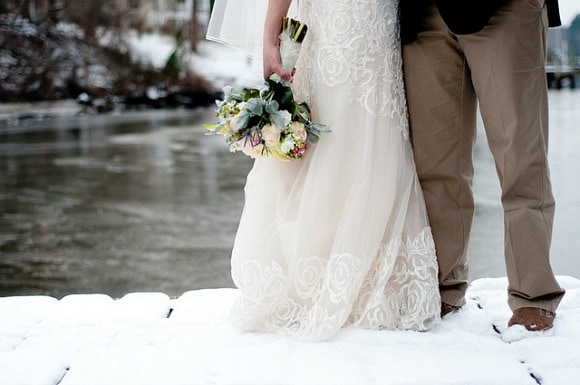 Most people associate the month of June with weddings, but lately, many brides and grooms seem to be opting for winter weddings. In fact, I'll be attending one almost every weekend for the next few months!
Since I'm used to attending weddings during the warmer months of the year, I couldn't help but wonder "What Should I Wear…?!" However, after giving it some thought and selecting outfits based on each type of wedding I'll be attending, I'm feeling a lot less lost when it comes to looking winter wedding wonderful.
If I ever get married and you are invited, it will no doubt be in the summer, and CF already has great outfit ideas and advice on what to wear for whenever that occasion arrives. However, if you have a winter wedding to attend, I have some outfit inspiration for both casual and formal affairs:
A Fur-mal Affair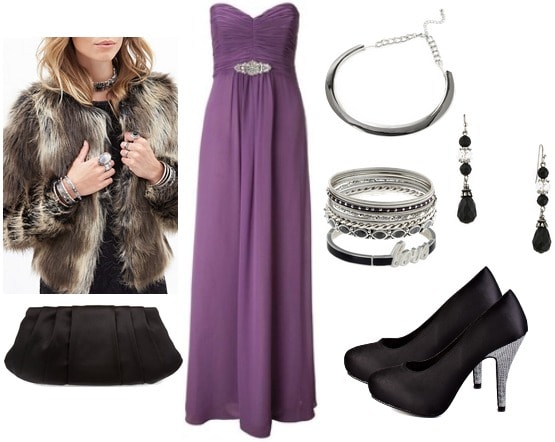 Product Information: Jacket, Dress, Earrings, Choker, Bangles, Bracelet, Bag, Shoes
When it comes to wedding attire, black tie weddings are probably the most panic-inducing. After all, you probably haven't worn a floor-length gown since prom. I would advise against actually dressing like you are going to prom (you know, with a ballgown, formal updo, and the whole shebang), but believe me, I've seen people go that far.
My advice is to always dress your best, but the absolute "best" you should be at is level with how the bridesmaids are dressed. If you are in a dress that could rival the bride's, you just look like you are trying to upstage her on her special day. I know you are a special snowflake among all the icicles at this winter wedding, but like I said, it is not your special day.
Conversely, don't go too casual because that conveys a message – even when unintended – that the wedding lacks importance to you.
The perfect balance is shown in the outfit above. For a black tie wedding, floor length dresses are not necessarily the uniform, but they are the better choice, and since it's winter, will keep you much warmer than a shorter frock. Since it is colder out, take the opportunity to try out dressier trends you wouldn't be able to rock in the summer, like a faux fur jacket.
Even though this dress already has some embellishment, do not fear the choker. After all, the '90s are back and this necklace will not actually choke you. All kidding aside, the choker, as well as the earrings, bring the attention back up towards your gorgeous face.
Color Coordinating to the Commitment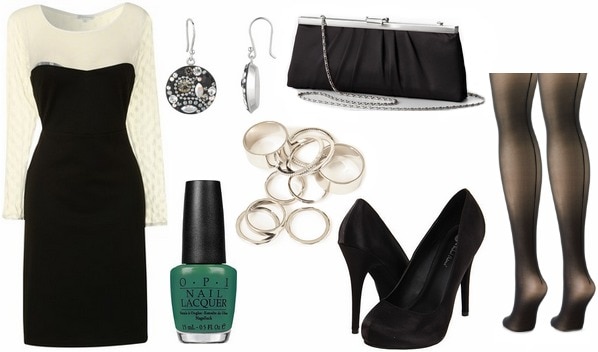 Product Information: Dress, Earrings, Rings, Bag, Nylons, Shoes, Nail Polish
I love to incorporate the wedding's color scheme into my ensemble for that evening. It helps to inspire my outfit, plus I'll look really coordinated in all the pictures people take!
This look is similar to what I wore to an actual wedding last weekend, and I chose this exact nail polish because it matched the theme of the wedding. (The couple are both proud Chicago Irish, need I say more…?)
At that wedding, I saw a lot of women looking very uncomfortable in strapless dresses because of the cold weather and the dreaded need to keep readjusting their dresses to keep them from slipping down too far. Darn that gravity!
If you are attending a winter wedding, I urge you to opt for a dress with sleeves; not only for the dropping temperatures, but because I don't want you to be a victim of unintentional dress dropping. Our generation usually associates strapless gowns with formal wear, but there really are a lot of cute sleeved dresses out there. Also, not having to wear a strapless bra is always a good choice.
Not accustomed to dresses with sleeves for formal occasions? Consider a dress like the one above; the material on top is a great middle ground as you reprogram your brain to view different sleeve styles as formal wear .
Casual Nuptials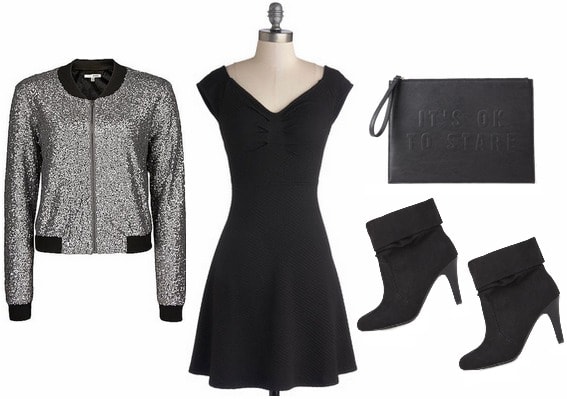 Product Information: Jacket, Dress, Bag, Shoes
I typically picture weddings as grand and formal affairs (TLC has gotten my expectations set a bit too high…), but in fact, some weddings are very casual. For these occasions, remember that this is still a very important day for the couple, so you need to dress nicely.
However, it's also okay to have a little fun with your look. Since there is less formality, everything usually has a funkier edge. Embrace that – the bride probably wants you to!
For this outfit, you can never go wrong – even at a laid-back licensing – with your go-to LBD, but get really festive with a statement piece, like this sequin bomber jacket from Buckle. Since it's winter, feel free to opt for booties instead of pumps for the sake of your lil' piggies.
You know you are going to look amazing, so make sure you let people know that "it's okay to stare" with this trendy phrase clutch.
Final Thoughts:
CF has more information on wedding guest attire, but the best advice I could leave you with now is to really enjoy the celebration! You were invited to be part of one of the most important days in the lives of two people and should feel honored.
Plus, weddings are also a lot of fun, and if you are the type that just can't wait to have your own (and have the Pinterest boards to prove it), I wish you luck catching the bouquet… or maybe meeting the groom's attractive cousin!
Tell me what you think:
Are you invited to any winter weddings? If so, did this article help you? Would you prefer to have your wedding in the winter, or would you rather be the traditional June bride? Do you enjoy having an excuse to really dress up, or would you rather be invited to "casual nuptials?" Let me know in the comments if there areany special events or occasions you would like to see covered in "What Should I Wear…?!".