About a week ago, I had the pleasure of attending Vivienne Tam's SS 2010 RTW runway presentation, and I really enjoyed seeing her collection up-close in the tents.
Since this was my first fashion week, I really didn't have the technology side of things together – I tried to take pictures with my tiny digital camera during the show, but most didn't come out as well as I'd hoped. I'll show you guys what I got, though, along with a video I took of the show finale from my perspective! Next year my photo and video coverage will be better, promise.
My Photos and Video from Vivienne Tam:
Here are a few of the photos and a video I took from my seat at Vivienne Tam. Please forgive the less than stellar quality!
My Runway Photos: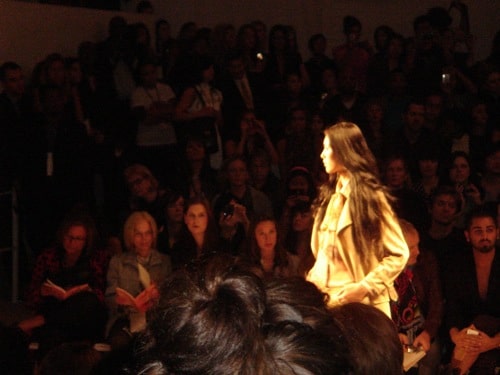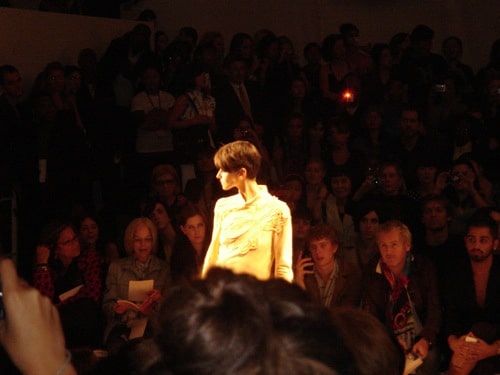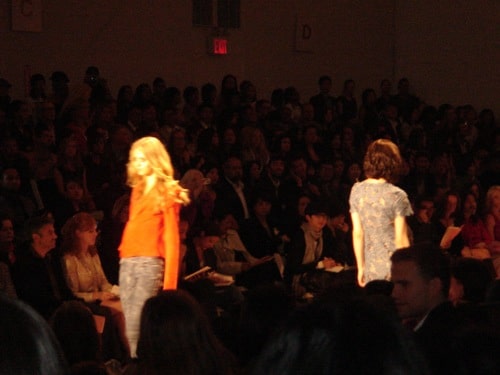 Video of the Finale:
Fashion Show Swag:
Everyone keeps asking me about the Fashion Week swag, so I thought I'd show you guys what they gave away at Vivienne Tam. In general, I think Fashion Week swag is very overrated, but they did give us cute blank notebooks on each seat at VT!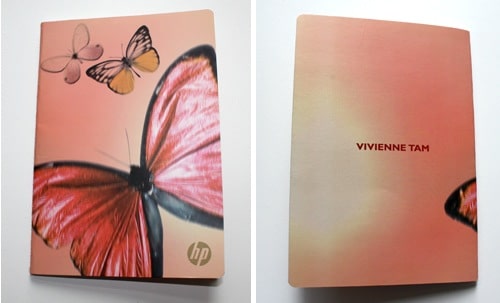 Cute, no? Each notebook mimics the design of the VT and HP digital clutch, complete with the HP logo. Inside there was a news release about the HP notebook, as well as a description of the inspiration for the collection.
And now on to the main event… decent quality runway photos and my review of the show!
Runway Photos: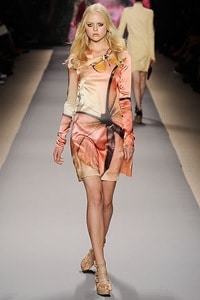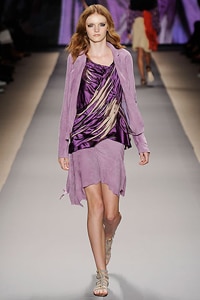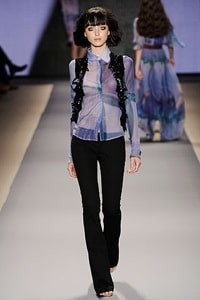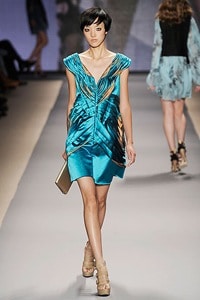 Photos from Style.com – Click each photo to enlarge.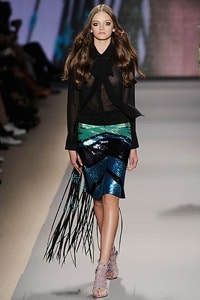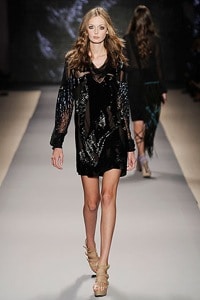 CF Runway Review:
Vivienne Tam's Spring 2010 theme was "Butterfly Lovers", after a famous Chinese opera reminiscent of Romeo & Juliet. Fittingly, the collection was ALL about butterflies, a very spring-appropriate choice.
Each piece was an interpretation of the butterfly – whether alluded to in the garment's shape or more literally, in the case of butterfly printed gowns and dresses coated in glittery butterflies. The collection also included elements of 1970's style for an overall vibe that was very hippie chic.
Accessories included large fringed bags with a hippie-chic vibe, trendy gladiator sandals, and the new Vivienne Tam and HP "digital clutch" – a miniscule, butterfly printed laptop resembling a tiny evening bag.
While I normally gravitate toward striking, in-your-face designs, I found my favorite Vivienne Tam pieces were the simpler dresses and tops. I thought some of the butterfly prints and sequined appliques were a little too much, but I loved the moments when the theme was less obvious. A draped purple wrap top had a butterfly-esque shape, but didn't scream "guess what my favorite insect is", and an amazing sequined skirt was printed with a not-so-obvious butterfly wing abstraction.
Overall, Vivienne Tam's Spring 2010 collection was a definite success. While at times the theme seemed a bit too literally interpreted, there were many subtle, wearable pieces that would be perfect for spring.
Fashion Cliff-Notes:
Overall Themes: Butterflies 1970's Freedom Romance




Key Trends: Butterfly prints Fringe Gladiator sandals Vests Sequins 70's silhouettes: flared jeans, platforms, loose dresses Long dresses Butterfly appliques Suede bags









What do you think?
If you want to see the rest of Vivienne Tam's Spring/Summer 2010 collection, check out the photos at Style.com.
I want to hear what you guys think! Do you like what you've seen of Vivienne Tam S/S 2010? What do you think about the butterfly theme? Which look was your favorite? Let us know in the comments!