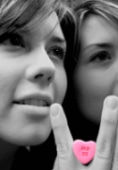 Photo by decadentyou
Like I mentioned in part one of this series on Valentine's Day gift ideas, single girls of the world can have just as much fun on February 14th as those who are attached! V-Day doesn't have to be depressing, stupid or all about spending money.
Since the point of Valentine's Day is to show your love to the people who matter most, why shouldn't your best friends be a part of it? Forget about boys (or girls) for the night and celebrate V-Day with your bffs. Here are some awesome but inexpensive gift ideas for your best girl and/or guy friends.
For The Beauty Addict: Get her a cute makeup gift set from Sephora like the Candy Hearts lip gloss set or a small size of some amazing perfume. (Marc Jacobs anyone?)
For The Chocolate Lover: Indulge your friend in traditional Valentines gift – lots of chocolate! Try some Serendipity Frozen Hot Chocolate, a Playboy Chocolate Bar, or even chocolate lip balm. Another idea: hit up Godiva for chocolate shopping spree.
For Your BFF: Get him or her something that will always remind them of you, like photo frames filled with pictures of the two of you, a photo necklace, or one half of the cheesy but cute "best friends" necklace set.
For The Candy Freak: This one's obvious – get them a ton of candy! Dylan's Candy Bar has amazing gift sets, but whatever they like will do. Also, check out Demeter Fragrance's candy-scented perfume!
For The 21-And-Overs: Have a trashy valentines cocktail party with your best friends. Make super girly pink and red drinks like Bikini Martinis and Cosmopolitans, Chocolate Cake shots, or just get a box of Sunset Blush Franzia and toast to a fun February 14th.
Again, these are just a few of my ideas. Use them or feel free to come up with some cooler ones of your own! No matter what gifts you get your friends or what you end up doing this V-Day, just remember, its all about showing people that you love 'em! Awww…
What do you think of these gift ideas? Do you have any better ones that I should have included? Let me know your thoughts in the comments!