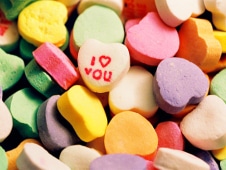 Photo by Heather Garland
February 14th is a really delicate subject for a lot of people – they either obsess over it or totally hate it. Some people make a huge deal out of it, while others say it's an evil Hallmark holiday designed to empty your wallet and make you sad. I say it doesn't have to be either; Valentine's Day should just be fun!
Forget the stereotypical V-day BS. Seriously. You don't have to be in a relationship to have an amazing Valentine's Day, and if you are dating someone, you don't have to spend what's left of your money after buying textbooks on a gift!
Over the next few days, College Fashion is going to feature stylish but college-budget-friendly Valentine's Day gift ideas. In this post, I'm going to talk about inexpensive (never say cheap) V-Day gifts for your boyfriend. Check back next time for gift ideas for your girlfriends, family and of course for yourself!
Valentine's Present Ideas For Your Boyfriend
If You're Traditional: Get him a nice wallet, watch, or some cologne if you really want to, but don't go too crazy in terms of money. You're in college – getting him the Rolex can wait until later.
If You're Both Broke: Make a pact not to get each other anything, set a price limit for gifts and stick to it, or promise to only give each other gifts you made; those are the best kind anyway!
If You're A Good Cook: Make him dinner or bake him cupcakes. Unless you're the worst cook ever, you really can't go wrong with this one. Cliche but true: one great way to a guy's heart is through his stomach.
If You're Not A Good Cook: Order some Chinese take out and throw in a few custom fortune cookies with cute messages or one giant fortune cookie. Romantic, thoughtful and so easy to do.
If He's Sexy: Get him some cute boxers, and/or buy yourself some hot new lingerie. I'm pretty sure most guys would NOT mind that at all. Examples:
If He's A Partier: Have a sense of humor and get him something he'll actually use at the same time with these definitely non-traditional Valentine's gifts:
If He's Geeky: Show him you like him just the way he is by getting him a gift that embraces his geeky side a little. Plus admit it, some geeky stuff is pretty cool.
These are just a few ideas to get you started, and I'm sure you all have tons more great ones. Let me know what you think in the comments. I'd love to hear your amazing gift ideas!