This post may contain affiliate links, which means we may receive a commission if you purchase through our links. Please
read our full disclosure here
.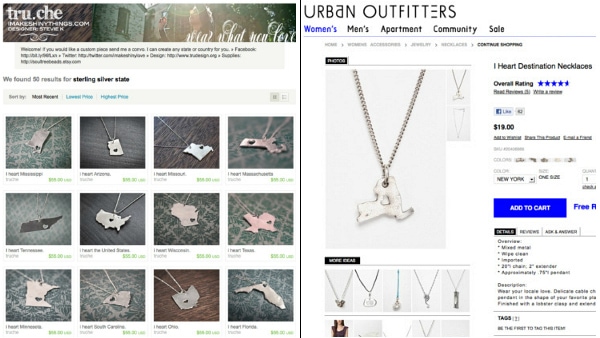 Retailer Urban Outfitters has come under fire recently after an independent jewelry designer accused the company of stealing one of her necklace designs.
Stephanie Koerner produces a line of necklaces called "World of Love," which she sells on her Etsy page. These pendants are handcrafted by Koerner and depict various states and countries with a tiny cut-out heart. Last week, a customer sent Koerner a message telling her that Urban Outfitters had stolen her design, after stumbling across a similar necklace on the company's website.
Koerner then wrote a post on her Tumblr about the discovery:
"My heart sank a little bit. The World/United States of Love line that I created is one of the reasons that I was able to quit my full-time job. They even stole the item name as well as some of my copy."
Shortly after, Koerner's post went viral on Twitter and other social media sites, with many people vowing to boycott the store. Koerner also pointed out on her Tumblr that this wasn't the first time Urban Outfitters has been accused of ripping off indie designs.
The company has since taken the necklace off their website, but here's a side-by-side comparison of both designers' New York inspired state necklaces. Koerner's necklace is on the left, while Urban Outfitters' is on the right side: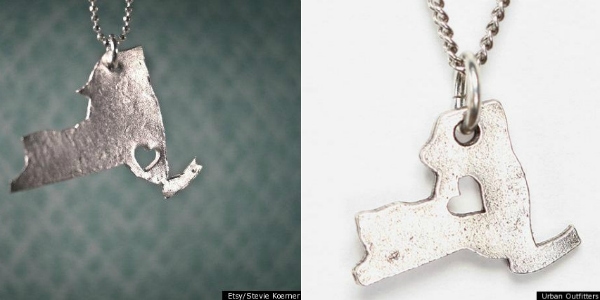 Urban Outfitters released a statement over the weekend saying the company "unequivocally denies copying independent jewelry maker Stephanie Koerner."
The statement also said "the [necklace] idea is not unique to Koerner and she can in no way claim to be its originator," citing this source, which shows other pieces of jewelry that are similar to Koerner's design.
Thoughts?
What do you think of this story? Did Urban Outfitters knowingly copy Koerner's necklace design? Do you think it's just a coincidence? Be sure to leave a comment and let us know your thoughts on the subject!