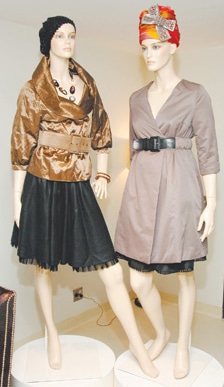 Take Forever 21, add a little high fashion, mix in some luxury sophistication and the result is Twelve by Twelve, the "disposable fashion" retailer's new higher-end brand.
Betsy Zanjani, VP of merchandising for Twelve by Twelve states "Forever 21 is fast fashion, it's quick-turn, young and fun, whereas Twelve by Twelve is a grouping of items designed to go together, to be worn together. It will be a little bit more sophisticated, much more luxury."
Adds Zanjani, Twelve by Twelve aims for the "new 30", meaning "everyone from the twentysomething Young Hollywood starlets" they all look like they're 30, they're so pulled together, to 50-year-olds looking to dress with a fresh spin. "
According to insiders at Forever 21, the new line's prices will be reasonable – 35% higher than the average F21 piece, but still under $100 dollars.
Personally, I'm excited to see what this new line will bring but a bit skeptical about quality given that it's Forever 21's line. The photos of the new line (one on the right) leave something to be desired. I'm not sure about the soviet-era looking hat with bow, but the modernized metallic trench could look great with the right outfit.
In terms of quality, I'm hoping that Twelve by Twelve will bring more to the table than Forever 21's normal clothing does. After buying one too many pieces from F21 that fall apart after a few wears, I know that the brand name is not synonymous with quality fashion right now. With the right pieces, Twelve by Twelve might change that. I'll be keeping an eye out for more on this line in the future, and will be hoping for the best.
Source:Women's Wear Daily