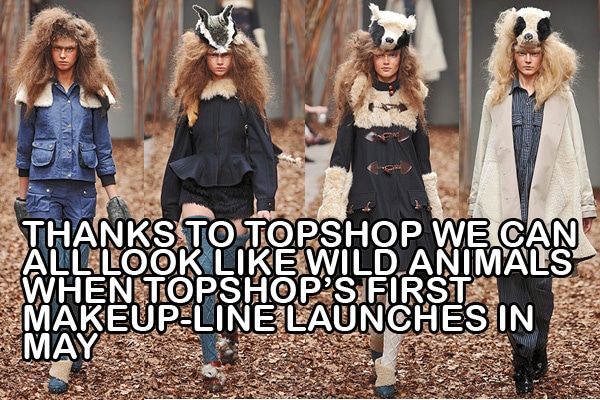 Lately, I've been wondering whether Topshop can possibly get any more amazing. How does it get any better than collaborating with Kate Moss? How do you go any bigger than the four floors the store occupies on Broadway? How do you create something more awesome than their blog full of everything and everyone that inspires them? Does it get any more stylish than this knit crochet dress? I'm not sure.
But this coming May, Topshop is going to prove me wrong – by launching its first makeup line, just in time for the summer music festivals that inspired it.
According to Lizzie Dawson, who designed the line,
Usually you've got to go to specialist shops to find the kind of makeup girls wear at festivals. We wanted to offer fun, adventurous products on the high street at an affordable price.
And don't worry. There's something for every girl (even the girl that doesn't go to music festivals). Although the details are being kept under wraps, according to ELLE UK,
It's a huge range, comprising a basic set of products in an impressive array of colors that will be in the store (and online) permanently, supplemented by special, seasonal trend-led sets that will be available for limited periods.
The makeup will cost between 4 and 6 euros (roughly 6-9 dollars a piece) which means the products will likely be on the small side (think MAC Cosmetics). And if waiting until May is a month too long then buy the May 2010 issue of ELLE UK, which will feature products from the line. (And check CF for more updates, obviously.)
Are you excited about makeup from Topshop?
Are you looking forward to Topshop's makeup line? Do you think you'll buy it? What products are you hoping it will include? As always, let us know with a comment!