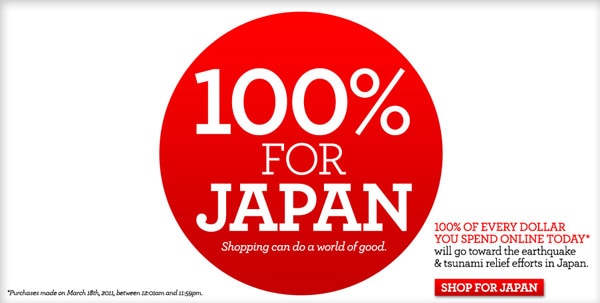 I mentioned this on the CF Twitter today, and it was posted numerous times in the comments on today's Coupons & Sales post, but since so many of you have emailed me about it, and because it's such an important cause, I thought this news deserved its own quick post!
Here's the deal: For today, March 18th only, Forever 21 will donate every dollar you spend on Forever21.com to earthquake and tsunami relief efforts in Japan. This applies to online orders only, placed for the rest of today, March 18th, until 11:59 pm.
So if you've been thinking about making a purchase at Forever 21, now is the time to do it! You can get some fabulous clothes while helping a country in desperate need of aid – pretty much a win-win.
Thanks to everyone who emailed me about this – I know this post is a little late, but there's still plenty of time to get your orders in and help! Also, if you'd rather just make a cash donation, remember that you can always donate to Japan relief efforts via the Red Cross website.