The fashion industry is known for their quick responses, great PR, and knack for handling stress and change well. Their response to the earthquake in Haiti was no exception.
The CFDA, (Counsel of Fashion Designers of America) met shortly after the earthquake to brainstorm specific ways the industry could help. Members such as Diane von Furstenberg, Tory Burch, Ralph Lauren, and Theory's President and CEO Andrew Rosen, along with many others, came up with a plan to reach out to those affected in Haiti.
Their first response is a T-shirt designed by Peter Arnell. The shirt, pictured below, is selling for $25 at a long list of stores as well as online. Proceeds will go to the Clinton Bush Haiti Fund.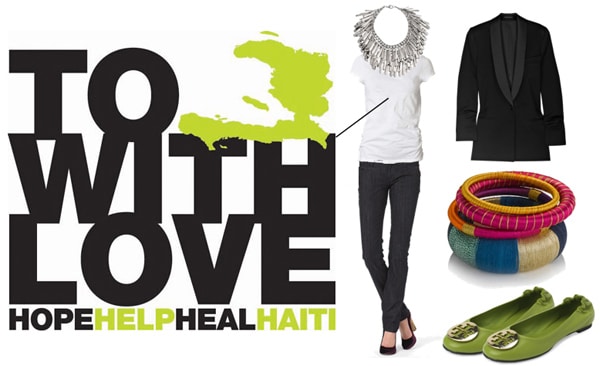 Product Information: Shirt Designed by Peter Arnell, Pants and Flats -Tory Burch, Jacket -Theory (both available at ShopBop), Necklace –Topshop and Bracelets –Monsoon
Before the earthquake, Haiti had quite a few garment factories, and now they are going to need those jobs more then ever before in rebuilding their country. For those of you in the NYC area during fashion week, wearing one of the Haiti shirts is an especially great way to show your support to the CFDA and Haiti. Also, it can send a powerful message to designers who have influence over Haitian employment opportunities.
Your Impact
Whether you buy a shirt or not, let the CFDA and its designers know that you support this great effort by writing on their Facebook page (search CFDA) or sending them a message on Twitter.
If you do choose to buy a shirt please feel free to send us a picture of how you choose to style it! We'd love to feature your look on College Fashion!