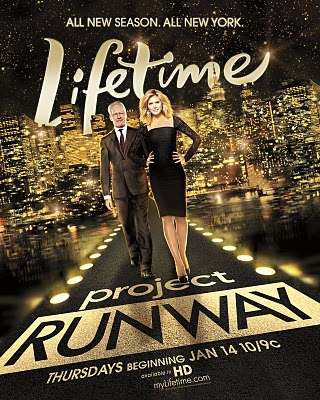 (all photos: Lifetime)
You're in one day and the next, you're out. That's the ever-so-volatile life of Project Runway's Season 7 contestants. Sixteen designers came to New York to show off their skills on everyone's favorite fashion reality show, and every week, their designs are critiqued by experts in the biz, including American designer Michael Kors, Marie Claire fashion editor Nina Garcia, and supermodel Heidi Klum.
However, the most important judge of the show is obviously us: College Fashion girls from around the world. So let's discuss some of the best and worst designs of Project Runway Season 7 thus far.
The In: Winning Looks
Emilio Sosa – Episode 1: Back to New York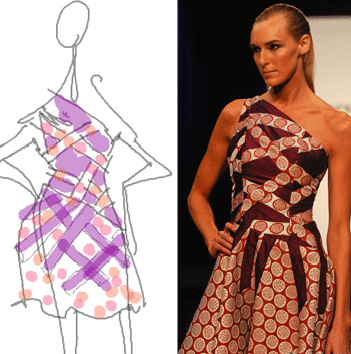 Project Runway is known for their crazy challenges, but at least Episode 1 let the designers ease into the insane stress of designing a garment in less than 48 hours by asking them to create a red carpet look showcasing their innovation and point of view.
Here, designer Emilio Sosa took the challenge and won immunity with a one-shoulder dress that played with prints and solids. He weaved the bands of printed and solid fabric to make the overall look both chaotic and calculated. The colors are fun and upbeat, which is perfect for spring. The length and cut strike a great balance between classy and flirty. And although I don't think that this dress is mind-blowingly innovative, it's definitely gorgeous and wearable.
Anthony Williams – Episode 5: Run for Cover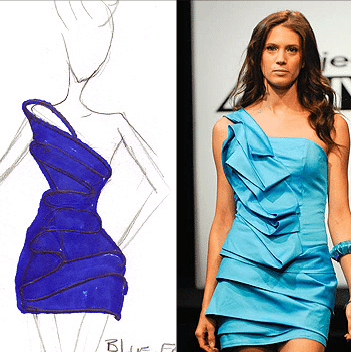 Episode 5 boasted a prize that was unprecedented in Project Runway history: the winner of the challenge would have their look worn by Heidi Klum on the April 2010 cover of Marie Claire. Surely, designing a dress for Heidi AND the cover of a popular fashion mag was both an amazing and daunting task!
Guest judge and Editor-in-Chief of Marie Claire, Joanna Coles, explained that for a fashion mag to sell off the racks, the cover look has to grab the reader. It should be bright and eye-catching. Also, since most cover shots are taken from the waist-up, the look should be ornate and interesting on top.
Anthony's sea blue dress incorporates so many on-trend features: the one-shoulder cut, ruffles in all the right places, and an electric, bold turquoise color that screams springtime. Most importantly, it's another fun frock that could be easily incorporated into every CF girl's closet.
Here's how Anthony's dress translated onto the April cover of Marie Claire:
Jay Nicholas Sario – Episode 7 – Hard Wear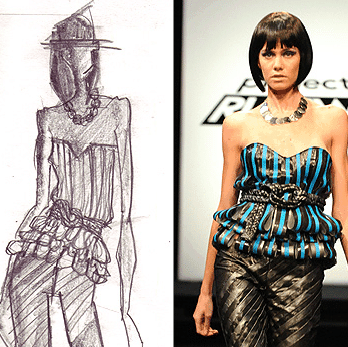 In past seasons of Project Runway, designers always had challenges that required them to make garments out of unconventional materials, like burlap sacks and Campbell's Soup inspired fabrics. All of that seems so easy compared to Episode 7's challenge: Design an outfit from items found in a hardware store.
Many of the designers attempted to make dresses out of sheet metal, most of which ended up looking overworked or like they could slice their models in half. (Ouch!) Designer Jay Nicholas Sario took an unique approach, however, by making leather-looking fabric out of trash bags and duct tape!
The turquoise duct tape stripes create a beautiful contrast between the bubble-hemmed top and the beautifully textured bias-cut trash bag pants. Even the tightly woven belt is made of trash bags! If I hadn't known what the challenge was, I wouldn't have even guessed that the material in this outfit was from a hardware store.
The Out: Losing Looks
Winning challenges on Project Runway takes creativity and skill. Contestants can either play it safe or take a chance. Sometimes it pays off and sometimes it fails miserably. Although the designers of these looks didn't actually get ousted, these looks were so low-scoring that it's a wonder the designers weren't auf'ed!
Amy Sarabi – Episode 6: A Little Bit of Fashion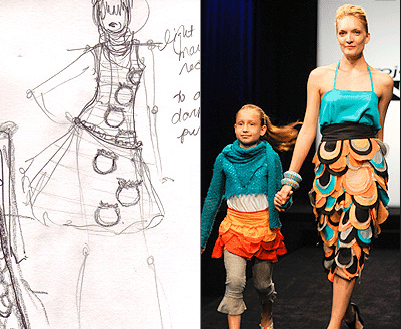 For this challenge, the contestants first designed an outfit for their child models. Halfway through the day, Tim Gunn surprised them (I love a good twist) with an additional challenge: design a corresponding outfit for their actual models.
Here, Amy Sarabi started off with an orange petal-cut skirt. I like the bright turquoise and orange hues, but they didn't quite translate into the pants that looked like a cross between a flamenco dance costume and harem pants. The circle cutouts were also a geometric overload! Sometimes the line between bold and tacky is a tough one to toe.
Emilio Sosa – Episode 7: Hard Wear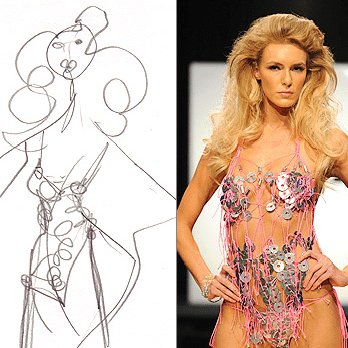 Let's go back to the hardware store episode, because there were so many trainwrecks to cringe at!
First, let me just say that I love Emilio Sosa as a contestant. He's a calm and collected designer who knows how to get his work done. For the hardware store challenge, he had a great idea to make a macrame dress out of washers and pink wire, but he went way over budget at the hardware store and had to give up half of his materials. Oops.
Instead of putting his model on the runway with a bottomless outfit, he attempted to adapt his vision into a bathing suit. Unfortunately, the look just didn't translate and his model ended up looking like a femme bot gone haywire! It's truly a wonder he didn't get kicked off.
You Be the Judge!
What are your thoughts on this season's Project Runway? Do you love a good crazy challenge like hardware store items and burlap sacks, or do you prefer designers to showcase their talents with normal fabrics? What were your favorite looks and who do you want to win? Let us know with a comment!