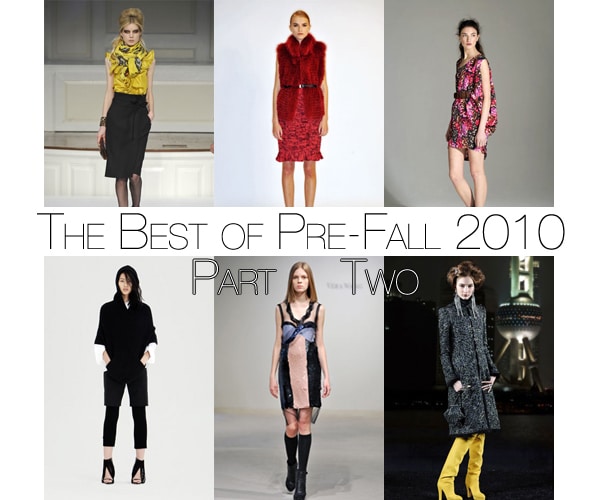 (Pictured Left to Right: Oscar de la Renta, Michael Kors, Thakoon, Alexander Wang, Vera Wang, Chanel)
(All Pictures Courtesy of: Style.com)
On Thursday I posted an article featuring some of my favorite looks from the 2010 Pre-Fall collections. If you missed it, or just want a refresher, see my first pre-fall fashion article, otherwise read on to find out more about Pre-Fall fashion this year!
Pre-Fall Collections
Versace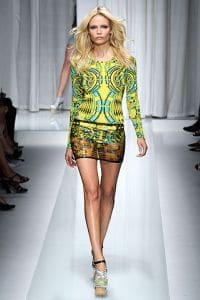 If I had to choose one word to describe Versace's Pre-Fall Collection, it would be "FIERCE". Shiny tights, colorful Japanese-inspired prints, and dark blues and blacks all fused together to create a rock and roll vibe like none you've ever seen. Donatella Versace did a wonderful job of balancing the basic blacks and blues of rock and roll culture with bright, psychedelic shades of orange, red, and green. And while I am not usually a fan of the shiny pleather leggings look, in this lookbook, they just make sense. Nonetheless, I love the dark smokey eye that the model is wearing, and that fur vest look is flawless!
See by Chloè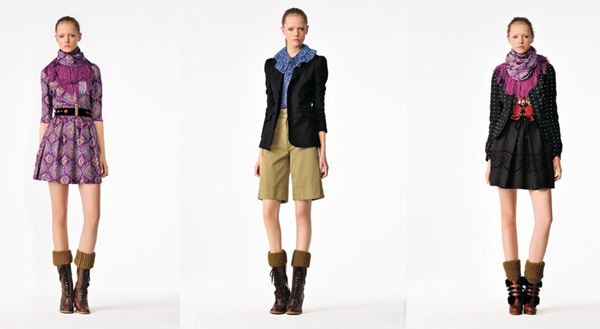 Remember when you were little and you had an American Girl doll that you could dress up? Well that's what Chloè's Pre-Fall Collection reminds me of. Every little girl's doll wardrobe, grown up. The lookbook was full of lace-up boots and fringe trim, and these details really made the collection. I loved the buttoned-up equestrian vibe, especially with the fun addition of flirty ruffles. The khakis, blues, and purples were fresh, fun color choices, and I loved how each look managed to appear young and different but still maintain that classic French sophistication.
Chanel
If you love details and accessories, then you will love Chanel's "Shanghai" Pre-Fall collection. "The Kaiser" (AKA Karl Lagerfeld) delivered some Chinatown flair to his collection this season. Drawing inspiration from the orient, Karl blended flowing, see-through fabrics with baubles and grommets, red lace with seemingly liquid noir, and skintight leather pants with gorgeous chandelier earrings. Everything is so meticulous and grand that you know it has to be Chanel, and to know Chanel is to love it.
Rachel Roy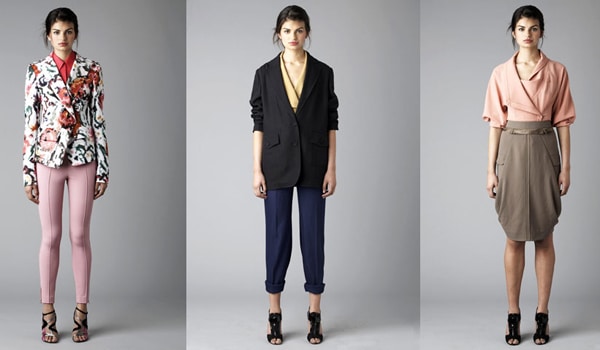 Pair together muted pastels, fantastic floral prints, and perfectly structured (yet somehow not rigid) fits, and you have Rachel Roy's Pre-Fall collection. I love the first look's color array and how well those streamlined leggings go with that fitted blazer. And don't get me started on the second look- that black blazer is amazing with those blue trouser pants. (Slouchy never looked so high class!) Always clean, and always chic, Rachel fused together both feminine and masculine qualities in all her pieces to create a look that was both classy and laid back.
Thakoon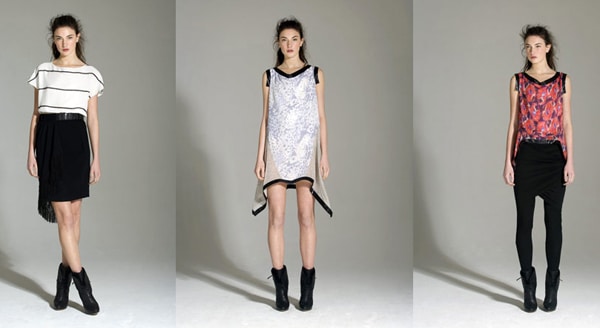 Thakoon always executes my idea of the perfect rocker-off-duty look. This season's Pre-Fall collection was the perfect mix of vintage-inspired fashion crossed with current and futuristic looks. Thakoon's collection featured lots of the same dark shades and skinny pants that we have seen in many other collections this season, but the floral prints in both muted blue and the vibrant red were very fresh and gave off an edge I had not seen any other designer attempt. I love the edgy cut of the middle dress, while the striped top on the left is so chic and plays off that fringed skirt with so much swagger! This collection is perfect for any girl who wants to make a bold and edgy statement yet still look refined.
Oscar de La Renta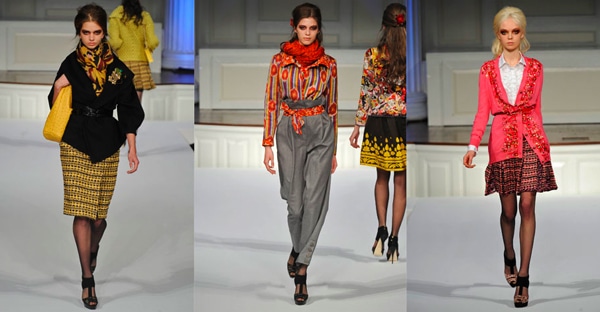 Oscar, Oscar, Oscar, do you ever stop amazing me? I LOVE this collection. The fantastic array of colors, the tailored perfection, the scarves, the pants, the skirts, need I go on? Every look in Oscar de La Renta's collection was modern, classic, and sophisticated. I love that he wasn't afraid to be bold and chose bright, bright, colors (see every outfit above). While I am not a pink girl myself, I am in love with that pink cardigan, it's so cute with those red embellishments on top! And that tribal-print blouse is so festive and bright, especially with that red scarf! The fun doesn't stop there, though: Oscar's gowns are just as mind blowing (as always).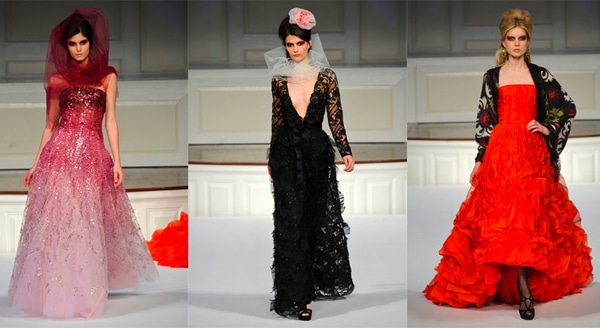 Words fail me every time I try to come up with a description of Oscar's gorgeous gowns. With each dress, there was something different and innovative. I loved the first dress' gradation from deep magenta to soft pink, the second dress's lacey deep-v, and the vibrant red of that strapless dress (beautiful and red-carpet worthy for sure). Oscar's handiwork speaks for itself, and even during Pre-Fall, he hit the ball out of the park.
Thoughts?
So now that you've seen both Part 1 and Part 2 of my Pre-Fall Collections summary, what is your overall favorite Pre-Fall Collection? Is there a look in particular that you loved most? Is there a collection that you loved that I didn't feature? Whatever your thoughts, let me know in the comments!