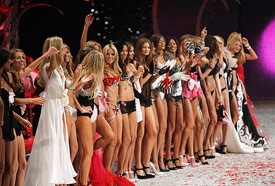 As you all probably know, I attended the Victoria's Secret Fashion show in Miami this weekend and that means I have tons of updates to share with you all!
So what did I think? I have to say – I knew the show was going to be fabulous, but I had no idea how amazing it would actually turn out to be! I had an incredible time and the show exceeded my expectations in every way.
The Hotel
First of all, the show was held at the legendary Fontainebleau Hotel in Miami Beach. Apparently the Fontainebleau used to be THE place for celebrities like Frank Sinatra, Elvis and everyone who was anyone in the 1950's, but it hasn't been a hot spot for the rich and famous for years now.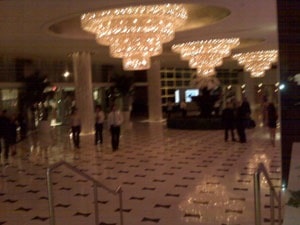 A picture of the hotel lobby taken from my Blackberry.
All of that changed this weekend when the hotel re-opened after a $1 billion renovation project with the VS fashion show, tons of celebrity guests, and the opening of new night clubs, restaurants, and shops.
If you've never heard of the Fontainebleau (and I hadn't before the show), you MUST check it out if you're in Miami.
The hotel is extremely glamorous and over-the-top – white marble floors, glittering chandeliers, an enormous pool, walls of floor to ceiling windows and even shiny columns (see my picture to the left.)
If you're on a budget, know that it is a fairly expensive hotel, with rooms for at least $300 a night, but it's SO worth the money for the incredible experience. You really feel like a celebrity just walking through the lobby at the Fontainebleau, and it was the perfect place for the VS fashion show for that reason.
The Fashion Show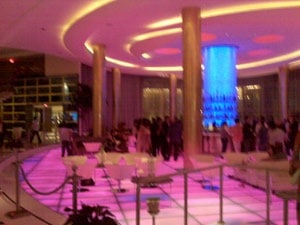 The bar area in the Fontainebleau lobby.
The VS Fashion Show itself was everything I thought it would be – tons of over-the-top looks, gorgeous models, fantastic makeup, and a performance by Usher. What more could you want?
In case you missed the live updates last night, I've reposted all of my live Blackberry Twitter updates from the fashion show for all of you to check out.
Since I'm not the fastest typist on a Blackberry, I asked my boyfriend to help me update my twitter account with his male perspective too as the show went on. His posts all say (Boyfriend's perspective] and (BP). All the other posts are my thoughts from the show! Hopefully it will all make sense.
On our way to the fashion show. So excited!! (9:04 PM)
At the Fontainebleau Hotel.. which is gorgeous! Drinking champagne and waiting for the fashion show to start. (10:15 PM)
Still waiting for the show to start. Should be soon but who knows really. (10:40 PM)
It just started. Usher is performing with models walking in front of him. Tons of metallics – really cute! (10:54 PM)
(Boyfriend's perspective) Usher needs a new hit; impractical underwear abound. (10:55 PM)
Adriana Lima in knee-high crisscrossing white gladiator wedges. They look tough to walk in but adorable. (10:56 PM)
The runway is covered in silver glitter! Can I have a room with a floor like that please? (10:57 PM)
(Boyfriend's perspective) I'm surprised the catwalk doesn't extend into the audience. Also latin music + models works well. (10:57 PM)
Crazy jeweled waist belts that look like they cost millions of dollars. (10:58 PM)
(Boyfiend's perspective) Miami was a good choice of location. (11:00 PM)
They told me no videos or photography but so many people are breaking that rule right now. Annoyed! (11:00 PM)
Really long floor skimming striped scarves for VS pink. (11:01 PM)
Black sequined leggings – I need a pair right this second! (11:02 PM)
(BP) They could get Usher but not the Ting Tings, or a least Duffy? Really? Pink collection looks cute. (11:04 PM)
Tons and tons of plaid and argyle everywhere. (11:05 PM)
(BP) not sure if that's supposed to be snow or just glitter. None-the-less I'm intrigued. (11:06 PM)
More Usher. (11:07 PM)
(BP) If I wanted to see Usher w/out models, I'd go see Usher in concert. Maybe this is supposed to be a commercial break, he is good live. (11:08 PM)
They keep cutting to some guy breakdancing. I assume for commercial breaks? (11:09 PM)
(BP) Nevermind. Random dancing guy is commercial person I assume. With the butterflies and flowers I assume this is spring lite. (11:09 PM)
Ruffled undies and a matching ruffled headpiece. (11:10 PM)
More white criscrossing strappy heels. Guess that's the footwear of choice. (11:11 PM)
(BP) Confetti falling petals is a nice touch. The guys that are standing in front of us need a firmer kick in the ass. (11:12 PM)
More ornate sparkly diamond looking belts that go up to each girl's chest. They're cuter than they sound. Also "love lockdown" playing. (11:14 PM)
(BP) Honest moment; I hate autotune but I actually like Love Lockdown. (11:14 PM)
Heidi Klum in amazing hugee sequined butterfly wings that look like bows! She is the epitome of fierce. (11:18 PM)
(BP) Two kids deep, Heidi Klum is gorgeous. I swear if you match up this commentary with the show it will make more sense. (11:19 PM)
Pink and red fireworks outside. (11:19 PM)
(BP) I think that's it. They set off fireworks so unless it's a premature explosion that's it. And it appears over. (11:20 PM)
That's it – it's over. Felt really short. (11:20 PM)
The After Party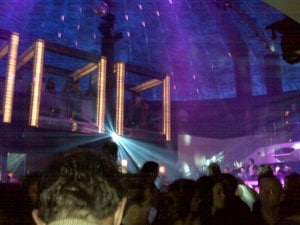 Inside LIV for the VS fashion show after party.
After the fashion show, my boyfriend and I got in to the ultra-exclusive after party at LIV, an amazing nightclub that's part of the Fontainebleau Hotel.
This was the best part of the night for me because LIV is a beautiful club and the after party was so much fun – open bar all night, tons of celebrities everywhere, and even free Victoria's Secret goodie bags on the way out.
My boyfriend and I were dancing right near tons of celebrities on the main dance floor at the party – we saw Heidi Klum and Seal (both really good looking in person), Adriana Lima, Paris Hilton (way skinnier in person than I expected her to be), the Paris BFF candidates, Mario Lopez, Brody Jenner and his girlfriend, Aubrey O'Day (ex member of Danity Kane – way prettier than I expected), Michelle Trachtenberg, Kristin Cavallari (truly gorgeous in person), the Kardashians, Christian Siriano from Project Runway, and all the VS models!
I had never been in a room with so many celebrities before, so I was starstruck to say the least. It was so much fun, and everyone looked fabulous. It was by far the best club I've ever been to and I can't wait to go again!
My Overall Opinion
At the end of the day, attending the VS fashion show was a great experience that I would do again in a heartbeat!
Everyone I met who worked for the Fontainebleau and Victoria's Secret was so nice and helpful, and I loved that people were excited to hear that I was going to post about the show and that you guys wanted to hear about it. They all definitely care a lot what you guys think! It was great to meet so many new people and have such an incredible time.
If you ever get the opportunity to attend a VS fashion show, do it! They really know how to put on an amazing show.
Now that you've seen a sneak peek of the show, don't forget to watch the Victoria's Secret Fashion Show on TV when it airs December 3, 2008 on CBS!