The world of fashion is a hustling bustling place, and the internet is no exception. "Street Style" blogs like Lookbook.nu and The Sartorialist have popped up all over the internet these past few years, shaking up the world of fashion by featuring REAL people with REAL style and consequently, inspiring millions of people around the world. My goal is to show you some of the best of the best of these styles.
Every month, I will feature some of the best looks I find on the web, and post them up to give you style inspiration as well as show you how you can create similarly styled outfits.
Read on for the first edition of what I hope to be many Street Style Roundups!
All American Girl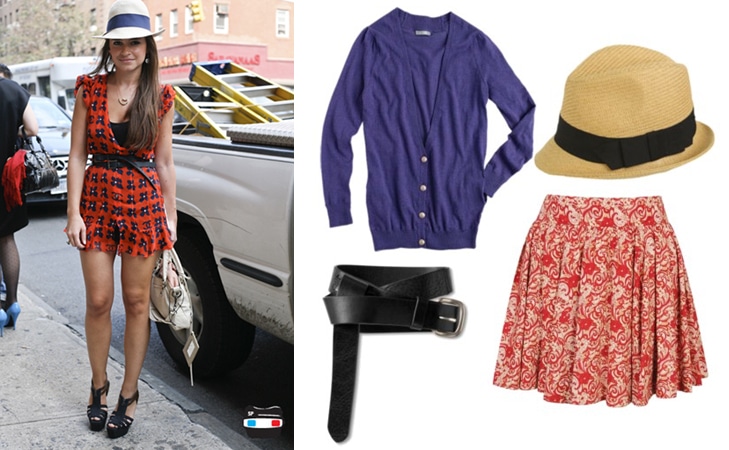 (Photo Source: StreetPeeper) (Cardigan- Delias, Skirt- Forever 21, Belt- Banana Republic, Fedora-Arden B)
Isn't this outfit just the icing on the cupcake? It's so put-together, yet still so simple. To get a similar look, just slip on a white tank or v-neck and tuck it into this cute red patterned skirt. Then belt your waist with a plain belt and throw on this cute blue cardigan from Delia's. Pop on your fedora, slip on some flats of your choosing, and you'll be good to go!
Little Miss Sunshine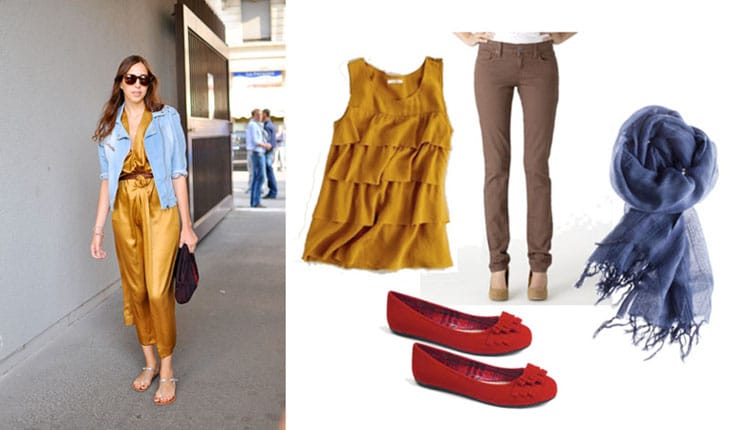 (Photo Source: LovelyLooks) (Top- J.Crew, Jeans- Alloy, Flats- Plasticland, Scarf- Calypso)
While I love this look, realistically not many of us college girls would ever consider wearing such a daring jumper. So instead I drew inspiration from this girl's color palette. First I chose a ruffly mustard top from J.Crew, and then a pair of brown skinny jeans. To get that splash of blue into the outfit, I chose a cute fringed scarf. And then lastly I chose a pair of red ballet flats for that last pop of color. Wear this, and I guarantee you will not be able to stop smiling.
Blue Period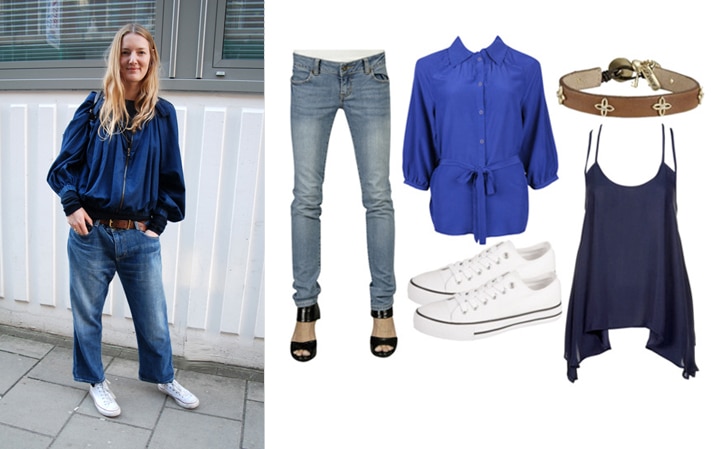 (Photo Source: The Style Scout)(Jeans- F21, Blouse- F21, Shoes-Charlotte Russe, Bracelet- Fossil, Cami- Topshop)
I am in love with this girl's look. It's so put-together and well thought out that it looks almost effortless. To get a similar look, I chose a cute navy cami, to serve as the centerpiece of the outfit. Then I picked out a blue blouse with bell sleeves (for this look, leave the blouse open – it adds interest to your outfit). Then I paired that with a simple pair of washed out skinnies, some basic white shoes, and – to add a touch of masculinity and offset the colors, a studded bracelet. Violà! An effortless, casual, everyday outfit.
Purple Haze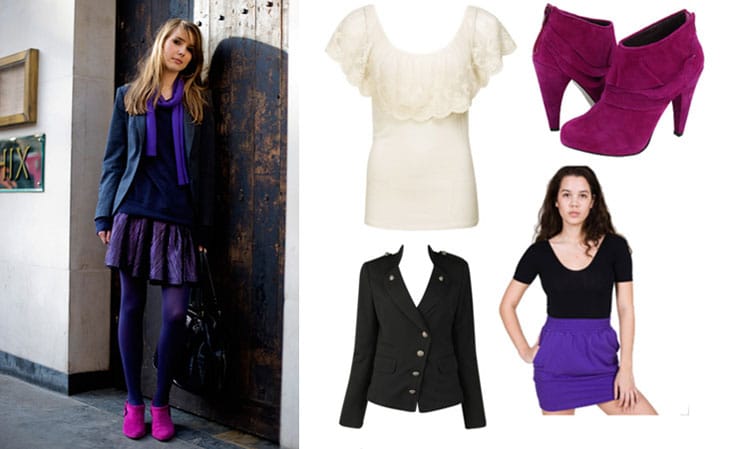 (Photo Source: StreetStyleAesthetic) (Top – Charlotte Russe, F21, Shoes- Zappos, Skirt- American Apparel)
This outfit is my favorite of this post. This girl manages to incorporate purple, one of this season's "it colors", not once, not twice, but 4 times (and it still looks chic)! To get a similar look, I chose a white lace top that you can tuck into this skirt that I found in the loveliest shade of purple. Slip on a black blazer, and a pair of these Steve Madden booties, and you'll be walking the town in style.
Animal Instinct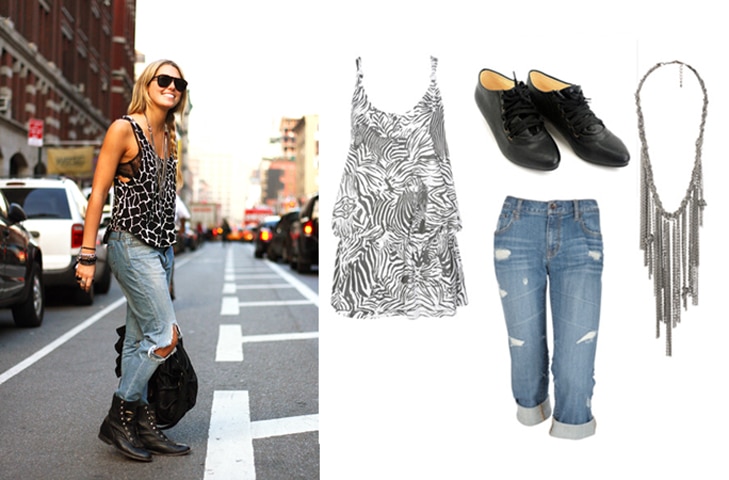 (Photo: Mr. Newton) (Tank- Topshop, Shoes- YesStyle, Jeans- Charlotte Russe, Necklace- Forever 21)
Someone call Kate Moss, because I think I just found her style twin! This girl manages to pull off slouchy chic so perfectly that it's almost scary. To get a similar look, I chose a lovely zebra print top and paired it with some distressed boyfriend jeans. Then I went ahead and chose some lace up flats, and to add some grungy sparkle, I chose a rocker-esque chain necklace. This look is perfect for a weekend lounging or strolling through the park.
Thoughts?
Which look did you like best? Did you like the inspired looks? Do you have a favorite street style blog that you would like to recommend? Is there a type of look that you want me to feature? (Are you as excited for these posts as I am?!) Let me know in the comments section, I can't wait to read your thoughts!