This post may contain affiliate links, which means we may receive a commission if you purchase through our links. Please
read our full disclosure here
.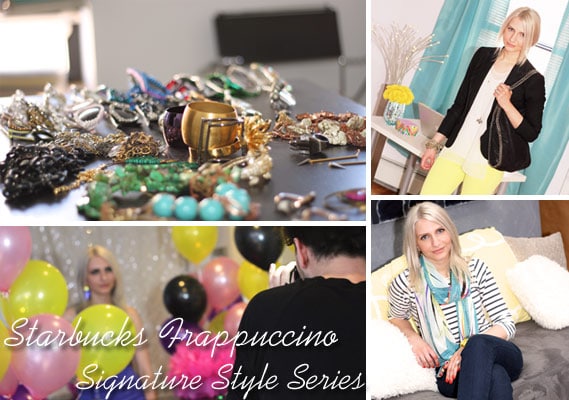 A few weeks back, I received an offer I couldn't refuse: The chance to spend the day in New York City playing dress-up for one of my (and your!) all-time favorite brands, EVER – Starbucks Frappuccino! The mission was simple – film a video showcasing 3 looks to represent my "signature style." Check it out below!
The Video
My 3 "Signature" Looks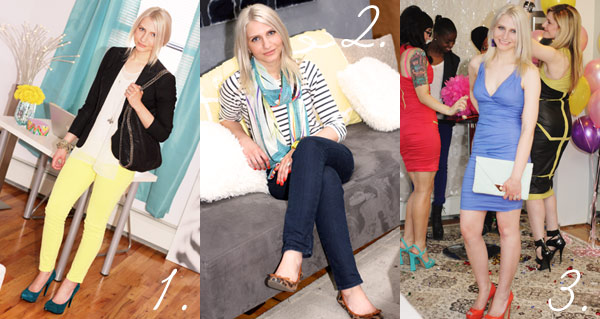 As a detail-oriented Virgo, I gravitate toward clean, modern pieces with precise details – think perfectly slouchy white tees, dark, clean wash jeans and sleek, well-tailored blazers. At the same time, I love to play with fashion and add something fun to every look, whether it's a pop of bright color or an armful of bracelets – or both. My "signature style" outfits reflect this:
1. Day at the Office – I'm lucky to have a job where I can express myself with my ensembles. I'm obsessed with yellow right now, so these citron skinny jeans from J.Crew have been in constant rotation. They make a big statement on their own, so I like to balance them with neutral pieces, like a basic black blazer and a flowy beige top. The teal pumps, by Guess, add a fun hint of contrast.
2. Relaxing at Home – For daytime, I live in dark wash skinny jeans and basic tees – I love to pair this striped one with leopard print flats and a bold scarf for an easy take on this season's print-mixing trend.
3. Night Out – For nights out, I'm usually a jeans-and-heels girl, so I decided to switch it up and go outside of my comfort zone with a "little blue dress." A simple dress like this one, from Nicole Miller, allows room for fun extras like orange Sam Edelman heels and bold statement earrings by Gemma Redux.
Giveaway – Your Chance to Win!
Now that you've seen my signature style, it's your chance to win an amazing piece to accessorize YOUR style! Just visit the Signature Style Sweepstakes website and you can enter to win a hand-picked fashion accessory from one of our signature styles.
I really hope you guys liked the video – best of luck to all of you in the giveaway! Also, don't forget to check out the "Signature Style" posts and videos from my blogger friends (and fabulous party guests), Gala Darling and The Budget Babe!
Disclosure: This video series was sponsored by Starbucks Frappuccino, Style Coalition and Hearst Digital Media.