This post may contain affiliate links, which means we may receive a commission if you purchase through our links. Please
read our full disclosure here
.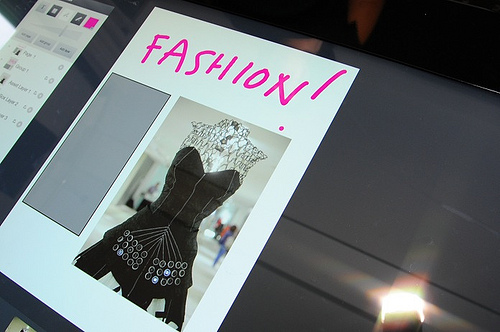 The Microsoft Printing Dress seen on screen at the Style Coalition VIP Lounge
Last week, we talked about how Microsoft and Windows Phone help us navigate Fashion Week in style. And as part of our trip to NYFW, we had the chance to visit the 59th Street Bloomingdale's and check out some of the ways Microsoft is merging fashion with technology.
Microsoft Technology at Bloomingdale's
The two must-sees at the 59th Street Bloomingdales are the Microsoft Printing Dress (mentioned in our last post) and the amazing Facecake Swivelvirtual fitting room, which uses Microsoft Kinect technology to let you try on items without entering a fitting room.
We highly recommend you guys stop by to see the Printing Dress (use hashtag #MSBloomingdales to see your tweets come to life on the dress!) and the Facecake Swivel (pictured below) – the latter is beyond amazing and an experience unlike any other! (Click here for all the details on how it works.) And if you're not in NYC, good news: The Facecake Swivel is available to try in 20 Bloomingdale's stores across the country.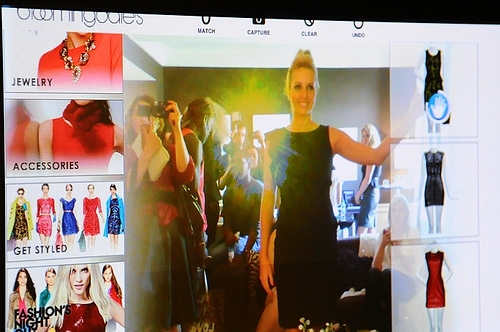 A model demonstrating the Facecake Swivel virtual fitting room at the SC VIP Lounge
Microsoft & Bloomingdale's NYFW Giveaway
Want to win some stylish Microsoft tech of your very own? Bloomingdale's and Microsoft are running a sweepstakes throughout NYFW, with prizes ranging from an Xbox 360 with Kinect, to a Wedge Mouse, to the Nokia Lumia 900 Windows Phone.
Entering couldn't be easier – just text "ITSON" to 51515 (US only) and you'll be entered to win!
Want more?
For more information on what Microsoft is doing at Fashion Week, be sure to check out the Official Microsoft Blog post, which includes pictures and a short video that explains it all. Special thanks to our friends at Microsoft for an amazing NYFW experience!
Disclosure: This post was sponsored by Microsoft. The opinions, as always, are our own. For more information, please see our Disclosure page.