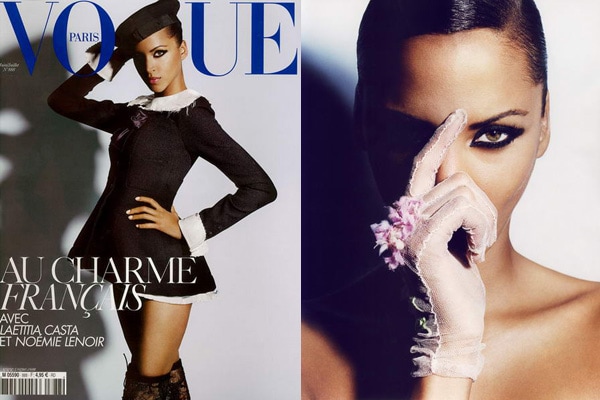 Noemie Lenoir in Paris Vogue (ph: Mario Testino)
On May 9, French model Noemie Lenoir was found unconscious after ingesting a potentially lethal amount of drugs and alcohol. Her attempted suicide comes at a time when the fashion industry is still grieving the loss of Alexander McQueen and models Daul Kim and Ambrose Olsen, who all committed suicide recently.
You may recognize Noemie Lenoir from the fall 2010 Louis Vuitton show. She also walked in the Victoria's Secret Fashion Show and graced the cover of ParisVogue. She was the face of GAP and L'Oreal advertisements and acted alongside Jackie Chan and Chris Tucker in "Rush Hour 3." She even had a heated televised argument with Karl Lagerfeld about racism in the fashion industry.
According to reports, Noemie was devastated by her boyfriend's legal troubles. Noemie Lenoir had been dating Swiss millionaire Carl Hirschmann when he was accused of blackmail, extortion and engaging in sex with minors. Noemie is also still devastated that her ex-boyfriend Claude Makelele cheated on her and that he refused to reconcile their relationship. Claude and Noemie have a five year old son named Kelyan.
It has been speculated that Alexander McQueen committed suicide because of financial troubles and the death of his mother, and that Daul Kim committed suicide because of the pressures of being a model. The reasons for Ambrose Olsen's suicide are still unknown, but I can't help but wonder whether the industry is to blame in some way for all three deaths, as well as the attempted suicide of Noemie Lenoir.
In a recent New York Times interview, Joerg Koch, editor in chief of 032cMagazine, told Cathy Horyn,
If we were doing the magazine without any fashion stories, life would be super easy. Seriously. You can't imagine. The magazine would run on auto-pilot. It would be a pleasure to produce.
When asked why fashion makes 032c so difficult to produce, Joerg said,
It's the people in the industry. I don't think you will ever meet so many unhappy people. People in the fashion industry are really contaminated with bad habits. A certain human kindness evaporates once you make a career in fashion. In the beginning you're really treated badly and then you seem to get accustomed to it.
And although I might be taking his words out of context, I found his observations very poignant.
For every success story about a model that rises to the top without succumbing to alcohol, drugs or depression, there are hundreds more stories of people in the fashion industry that end up penniless, unhappy or dead. I've been reading MODEL by Michael Gross and House of Versace by Deborah Ball and both books are full of stories about how ugly the beautiful world of fashion is.
What do you think?
Is the fashion industry full of unhappy people with bad habits, or is it just misunderstood? Should we blame the fashion industry for the deaths of Alexander McQueen, Ambrose Olsen, Daul Kim and the attempted suicide of Noemie Lenoir? We want to hear your thoughts on this. As always, let us know with a comment.