New York Fashion Week is in full swing now, so while everyone is eagerly ogling next fall's fashions, I thought I'd recap the most interesting shows from Spring 2010 Couture week, which just happened in Paris.
The couture shows are always a spectacle and full of creativity, and while we all may not be able to afford the pieces, they definitely offer fashion inspiration! As it is only mid-February and spring is not quite here yet (at least for us in the snowy mountains), why not shake things up and get a head start on spring's hot new trends? Here is a list of some of my favorite Couture shows and the trends we saw on the runways.
Show 1: Chanel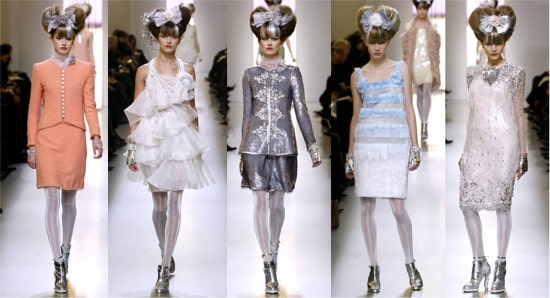 Karl Lagerfeld never disappoints with his timeless and feminine designs that make Chanel such a popular brand. While the Spring RTW show had a country chic vibe, the couture show was more romantic and streamlined, with lots of ruffles, bows, and many gleaming silver accents. Each model's hair was even infused with glossy silver streaks and arranged in an adorable heart-shaped updo. I loved their classic suit done in a pretty peach color and the intricate silver beading on the last look.
For more about the Chanel couture show, check out Jessica's post, Karl Lagerfeld Reinvents Chanel Couture.
Show 2: Christian Dior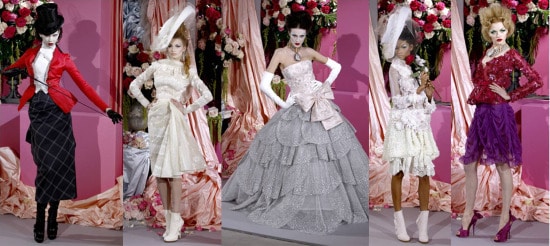 For this collection, John Galliano drew lots of inspiration from the Victorian Era and elegant equestrian attire. In a palette of bold reds, deep purples, and soft pastels, all of the garments seemed to have a personality of their own. The hats on the second and fourth outfits go perfectly with the white dresses full of lace and ruffles. The ballgown in the middle is simply stunning; the beaded tiers of the skirt make it fit for any princess while the giant bow keeps it fun. You also can't miss the models' bright red lips- proof that the right red shade can completely transform an outfit and give you an extra boost of confidence, whether you're working the runway or walking to class.
Show 3: Thimister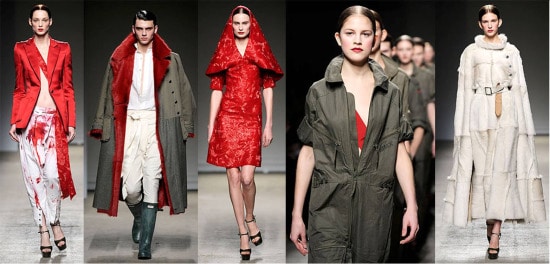 Even though this collection is technically Fall 2010 Couture, the military-inspired look is still a big trend right now and works just as well for spring. Thimister took this trend to new extremes, however, by sending out some models seemingly straight from the battlefield, with "bloodstains" splattered all over their white clothes. He was also very inspired by Russia, from the long fur coats and white military suits to the dress in the third look that recalls the shape of a matryoshka doll. Staying true to the military vibe, he sent out an army of models clad in green jumpsuits for a valiant end to the show.
For more on choosing the right military jacket for you, check out Kristina's post, College Fashion Trend: Military Jackets.
Show 4: Alexis Mabille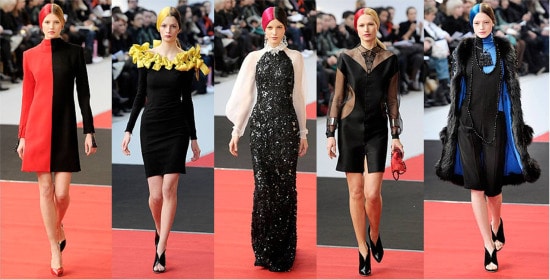 Full of black garments accented by bright colors, for this collection, Alexis Mabille had the colorblock technique down to a science. Even the models' hair was not exempt from this style: each one had her hair in an exact middle part with one side dyed a bright hue to match her garment.
While this look might be a little extreme for everyday, you can still join in on this fad by buying some temporary hair color to add a few key streaks to your hair. I loved how far Mabille took the colorblock look- some models even had different colored shoes! Of course, this collection still included other hot trends like ruffles, fur, sequins, and sheer fabrics, but it proved that they look just as great done in bold colors as they do with spring's typical pastels.
Show 5: Jean Paul Gaultier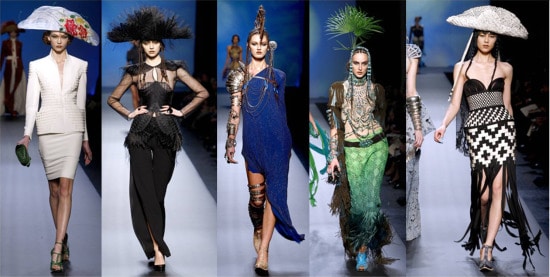 This show was full of so many different colors, patterns, and silhouettes that I had to watch it again and again to fully comprehend it all! Full of Mexican, South American, and even Avatar-ish influences, this collection was unlike any other this season.
I loved the floral accent on the hat in the first look as well as the weaving pattern in the last black and white ensemble. My favorite look was the blue dress in the middle above. Gaultier didn't just put a few silver bangles on that model- he put them all the way up her shoulder and leg! The headpieces were also very unique model to model, yet still seemed to flow together. For more on this tribal type of look, see College Fashion Trend: Aztec Inspiration.
Show 6: Elie Saab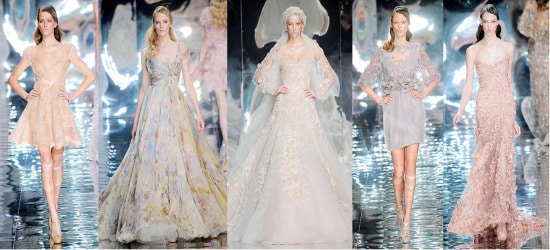 As usual, Elie Saab's collection is the one that I would consider the "prettiest". Each of Saab's models looked positively angelic wearing flowing dresses with florals and ruffles galore against a molten silver runway. Each one also had a distinct French braid on one side that I wish I could do on my own hair! (You can attempt it yourself by following these steps from Glamour). Besides florals, there were lots of dresses in nude tones that are so chic for spring. This was definitely a show that made the little girl in me swoon at the sight of so many beautiful dresses!
Get the Look!
Now that you've seen a few of the couture runway looks for this spring, check out these pieces to see how you can incorporate these trends into your own wardrobe!
Trend 1: Lace and Sheer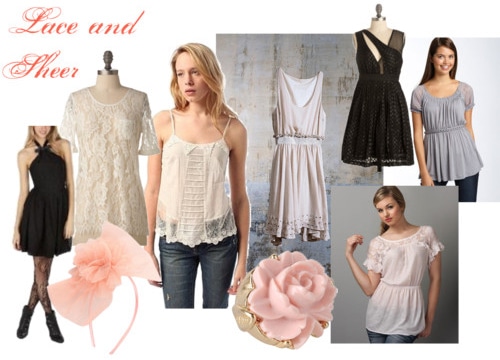 Product Information: Black Lace Dress: Target, Shirt: Modcloth, Headband: Forever 21, Cami: Urban Outfitters, White Dress: Urban Outfitters, Ring: Forever 21, Black Dress: Modcloth, Blue Blouse: Nordstrom, White Blouse: Lulus.
Trend 2: Military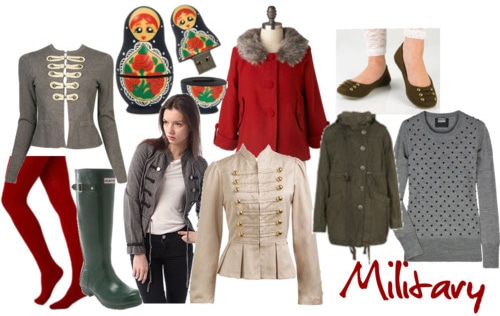 Product Information: Tights: Modcloth, Cardigan: Forever 21, Boots: Nordstrom, Jacket: Urban Outfitters, USB flash drive: Fred Flare, Coat: Modcloth, White Jacket: Arden B. ,Flats: Lulus, Jacket: Topshop, Sweater: Net-A-Porter.
Trend 3: Nude Shades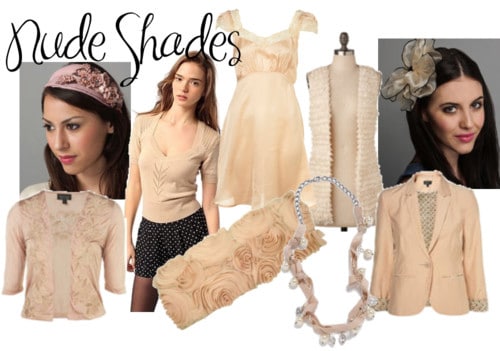 Product Information: Cardigan: Topshop, Headband: Lulus, Sweater: Urban Outfitters, Dress: Topshop, Clutch: Sondra Roberts, Necklace: American Eagle, Vest: Modcloth, Bow: Lulus, Blazer: Topshop.
Trend 4: Colorblock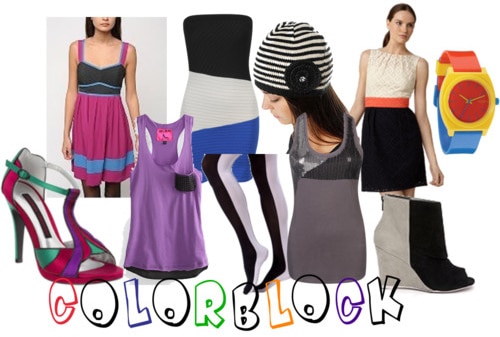 Product Information: Shoes: Modcloth, Dress: Urban Outfitters, Shirt: Pacsun, Dress: Forever 21, Tights: Modcloth, Shirt: Forever 21, Hat: Betsy Johnson, Dress: Nordstrom, Shoes: Urban Outfitters, Watch: Nordstrom.
What do you think?
What did you think of the couture shows? Do you have a favorite couture designer? Do you plan on incorporating any of these trends into your spring wardrobe? Let us know with your comments!
*All runway photos from Style.com.