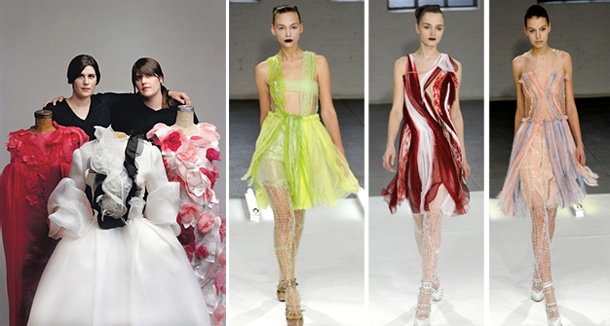 Photos courtesy of The Moment and NYM.
Exciting news.. it's just been reported that incredible designer duo Rodarte will launch an affordable line for Target this December as part of Target's Go International series!
The line, made up of 55 pieces including everything from knee-highs and dresses to leopard print jackets, will launch online and in Target stores on December 20th. Prices will range from $9.99 to $79.99 and the line will be available until February 6, 2010.
According to Women's Wear Daily, the Target collection will stay true to Rodarte's spirit: "What you'll notice is an amazing eye for detail," said Joshua Thomas, a Target spokesman. "It's very feminine, yet very modern. The collection incorporates a rich mix of patterns and fabrications and everything from sequins and bows to faux fur. The key with Rodarte is layering."
According to Thomas, the line will include "a variety of great holiday dresses." "There are stand-alone pieces and pieces that can be worn together to create an ensemble by layering different patterns, textures and prints."
While many are familiar with Rodarte, Target expects that many of its customers will never have heard of the designer label. "There will be guests who are familiar with the [Rodarte] name and we will also be introducing it to others for the first time," said Thomas. "Of course, we use marketing material such as our Web site. We try to provide an appropriate platform for designers and their points of view. Some guests will have shopped the upscale collection. We will introduce Rodarte's design aesthetic to a much broader audience."
What do you think?
I personally love Rodarte so I'm super excited for this line! Can't wait until the lookbook is released. What about you? Are you psyched for this Target collaboration too? Leave a comment!