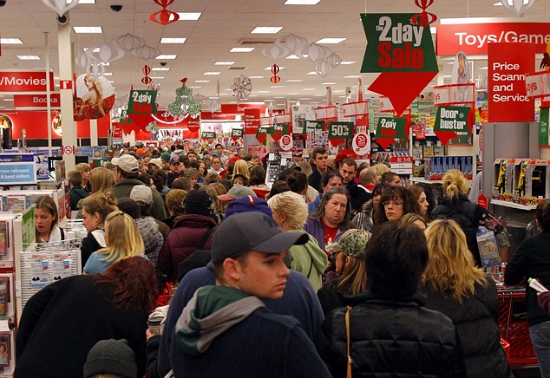 As I'm sure most of you fashion-savvy readers know, one of the biggest shopping days of the year, Black Friday, is just around the corner. While Black Friday deals usually require shoppers to wake up in the wee hours of the morning, this year, many retailers have decided to open their doors even earlier than normal.
Stores like Target, Kohl's, Best Buy and Macy's will kick off Black Friday at midnight this year, while Wal-Mart decided to open their doors starting at 10 p.m. on Thanksgiving Day.
According to WWD, Gap Inc. — which includes Gap, Banana Republic and Old Navy — will also have 1,000 of their stores open during Thanksgiving Day, with even more stores opening at midnight on Black Friday.
Target spokeswoman Molly Snyder explained the company's decision to open early this year:
"We have heard from our guests that they want to shop Target following their Thanksgiving celebrations rather than only having the option of getting up in the middle of the night."
Of course, there has been some backlash over earlier openings and many employees are protesting the fact that the new hours cut into their family time. However, so far, no changes have been made.
Your thoughts?
Are you planning to shop on Black Friday? What do you think of stores opening earlier this year? Will you be taking advantage of the earlier hours? Would you rather shop late at night or super-early in the morning? Let us know what you think by leaving a comment below!
Also, if you're interested, be sure to check out the full list of Black Friday store opening hours here.