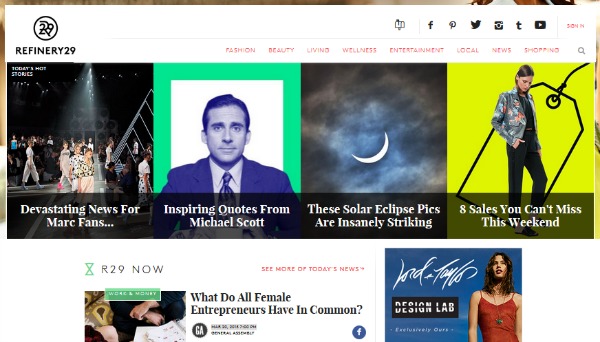 Refinery29 is getting a makeover. While it started as strictly a fashion and beauty site, R29 recently announced that it is expanding its breaking news coverage to become a news and lifestyle website for millennial-aged women.
R29 has been steadily branching out beyond fashion and beauty over the last few years by covering entertainment, food, lifestyle, etc., but now the site is expanding its coverage on topics like breaking news and politics.
AdAge is reporting that R29 is looking to hire a news director to "shape the site's move into up-to-the-minute coverage of breaking news across all R29 categories." Last week, the company announced it has hired staff members to cover politics, technology, and culture.
R29's editor-in-chief, Christene Barberich, released a statement about the expansion on political coverage:
"The goal is for our readers to be well-informed and able to truly vote their values. We plan to press officials and candidates on the issues that matter to millennial women – jobs, pregnancy discrimination, civil rights, health care, and the economy – and ensure our readers' specific situations, concerns, and challenges are being addressed."
Your thoughts?
Do you like that Refinery29 is becoming a news and lifestyle site? Should more fashion/beauty websites move in this direction? Would you read political coverage on R29?
We know lots of CF readers also read Refinery, so we're curious to know what you think. Let us know your thoughts by leaving a comment below.