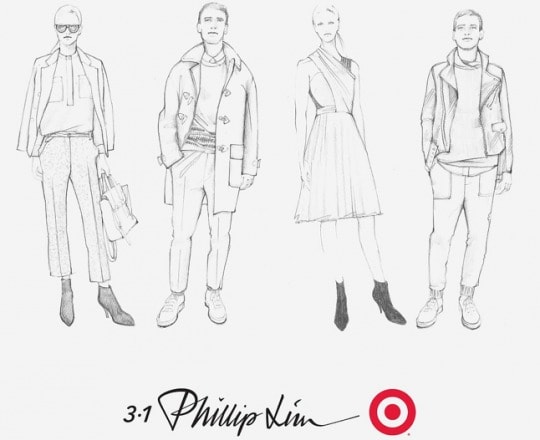 Images Courtesy of Target
Target recently announced their next collaboration would be with designer Phillip Lim, who is known for his 3.1 Phillip Lim line.
3.1 Phillip Lim for Target will include both men's and women's clothing, shoes, and accessories. Prices will range from $19.99 to $299.99 for apparel and $19.99 to $59.99 for accessories.
Target's Senior Vice President of Merchandising, Trish Adams, spoke about the company's decision to partner with Lim:
"Phillip is a designer we've had our eye on for years. His aesthetic is modern and sophisticated, and he shares Target's vision of democratizing design. This fall, 3.1 Phillip Lim for Target will offer our guests a compelling reason to update their wardrobes, with an assortment of versatile, beautifully tailored must-haves for both women and men."
The 100+ piece collection will launch online and at most Target stores starting on September 15th, 2013.
Want to learn more about the collection? Check out this video Target released to learn about the inspiration behind Lim's designs:
https://www.youtube.com/watch?v=G3Ln5Yom-xI
Your thoughts?
What do you think of this collaboration? Are you a fan of Phillip Lim's designs? What do you think of the sketches? Will you be checking out the collection this fall? Remember to let us know what you think by leaving a comment below!