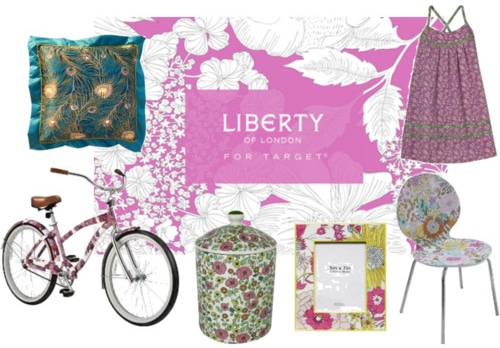 All items above can be found at Target.com
Liberty of London has long been known around the world for their playful and chic floral-patterned products. Ranging from groovy 60s-inspired prints to more delicate mini florals, their new collection for Target, which has just been released, has something for everyone.
Whether you're looking for a cute sundress for spring break, a new comforter to brighten up your dorm, or even a bike to fight off that freshman 15, you can find it all here! Listed below are three of our favorite Liberty for Target products and ways you can wear them with pieces you might already own.
Outfit 1: For a Rainy Day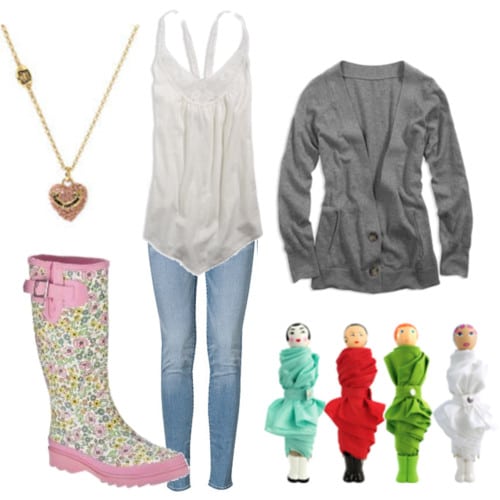 Product Information: Liberty of London Rainboots- Target, Necklace- Nordstrom, Tank- American Eagle, Jeans- H&M, Cardigan- American Eagle, Umbrellas- Fred Flare.
This is a perfect outfit for a rainy spring day. The minute I laid eyes on these rain boots at my local Target, I knew they were just what I was searching for! These boots look great worn over tucked-in jeans and paired with a flowing top and breezy cardigan. To make you smile even on the dreariest of days, add some fun accessories like the pink heart necklace or one of the adorable umbrellas from Fred Flare!
Outfit 2: For a Trendy, Edgier Vibe
Product Information: Liberty of London Dress- Target, Earrings- Topshop, Cardigan- Forever 21, Sandals- Forever 21.
This focus of this look is Liberty's pretty red, printed sundress. If you've always forgone florals because they're too sweet or pastel-colored, then this is a perfect outfit for you. To mix it up a little, add a nautical-inspired cardigan and some edgy ghillie tie sandals, two trendy items for Spring. Some floral post earrings in a complementary color tie it all together.
Outfit 3: For a Vintage, Girly Look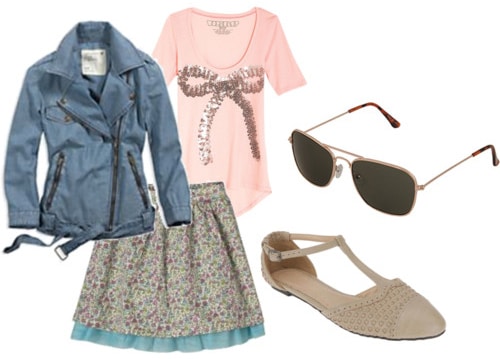 Product Information: Jacket- American Eagle, Liberty of London Skirt- Target, T-Shirt- Delias, Sunglasses- Forever 21, Flats- Urban Outfitters.
This outfit is all about cute, flirty details. The Liberty skirt is adorable, but found in the little girls' section of the store! If you can pull it off, don't be afraid to use the girls' section for fashion inspiration. There are tons of great skirts, tops, and dresses available for kids that would work for anyone with a smaller stature. You could also try wearing a dress as a tunic. Pair the skirt with a sequined tee, a comfy chambray jacket, and T-strap flats, grab some aviator shades and you're ready to head out in the sun in style!
What do you think?
Are you a fan of Liberty of London's new line for Target, or do you think flowers should stay in the garden? Have you bought any pieces from the collection? How do you plan to incorporate them into your spring wardrobe? Let us know with your comments!