This post may contain affiliate links, which means we may receive a commission if you purchase through our links. Please
read our full disclosure here
.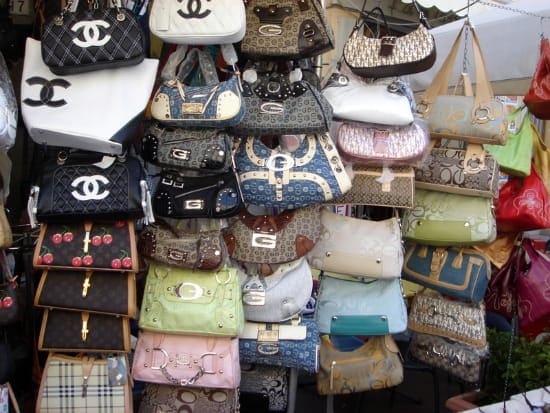 For our weekly fashion news column, we usually talk about the latest designer collaborations, makeup collections and even red carpet events. However, this week, we wanted to talk about a controversial issue that has been a hot discussion topic lately: counterfeit merchandise, like the purses pictured above.
Just last week, The New York Post reported that NY councilwoman Margaret Chin planned to propose a bill that would fine anyone seen purchasing counterfeit designer merchandise in New York City. If the bill passes, buyers of counterfeit goods could face a $1,000 fine or up to one year in jail.
Although the punishment seems kind of harsh, Chin said that oftentimes money from counterfeit goods funds unsafe child labor and even terrorism. Lawmakers hope the bill will stop consumers from buying cheap designer knockoffs.
Of course, the bill doesn't target anyone who is unaware that the merchandise they purchased is fake. Also, you have to be caught actually buying a counterfeit item to be charged — if you already own a knock-off purchased in the past, you can't get in trouble for that.
Thoughts?
What do you think of this proposed bill? Are you for or against it? Do you think it would actually stop people from buying counterfeits? Do you own any knockoffs? Please let us know what you think by leaving a comment!