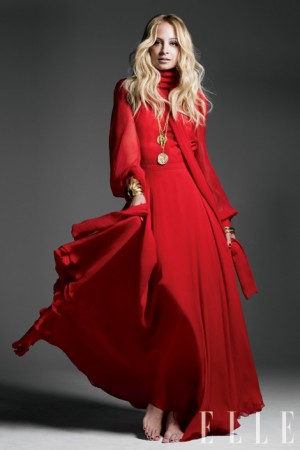 Photo courtesy of ELLE
Department store Macy's recently announced that their latest designer collaboration would be with none other than Ms. Nicole Richie.
Richie will be creating a collection for Macy's popular Impulse line, which has featured past collaborations with designers like Karl Lagerfeld and Alberta Ferretti.
According to WWD, Richie's limited-edition capsule collection will include 24 to 30 pieces that will incorporate lots of bold prints and bright jewel tones.
Martine Reardon, Macy's chief marketing officer explained the company's decision to work with Richie:
"Nicole is pretty savvy when it comes to the fashion business and understanding consumers. She's a real fashion influencer. She's got a very definitive look, very free style and bohemian chic, and our collection will definitely pay homage to her style."
Nicole Richie for Impulse launches online and at 100 Macy's stores starting in mid-September.
Your thoughts?
What do you think of this collaboration? Are you a fan of Nicole Richie? What do you think of her style? Have you ever purchased anything from the Macy's Impulse line? Will you be checking out this collection after it launches? As always, remember to leave a comment below and let us know what you think!