Editor's Note: As you guys may know, Team CF is here in NYC right now to cover Mercedes Benz Fashion Week and the Spring 2011 collections. We'll be updating you with all of our NYFW coverage over the next few days, so stay tuned the latest from the Spring runways and to get a preview of what's to come for Spring!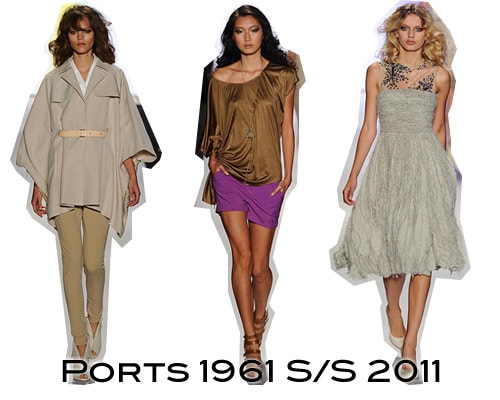 To kick off our Mercedes Benz Fashion Week Spring/Summer 2011 coverage, we begin with Ports 1961.
For those of you not familiar with the line, it was launched in 2004 by Canadian designer Tia Cibani under the Canadian sportswear brand Ports International. The signature Ports 1961 look is structured, elegant, romantic, and a little bit exotic. Celebrity fans of the line include Olivia Palermo, Sienna Miller, and Nicky Hilton.
Runway Photos:
Photos from ELLE and Style.com. Click on each photo to enlarge.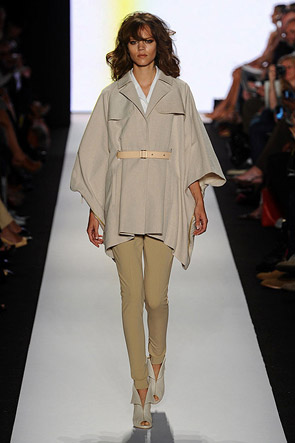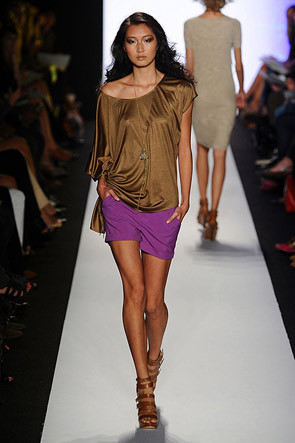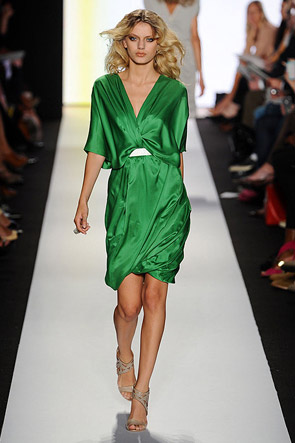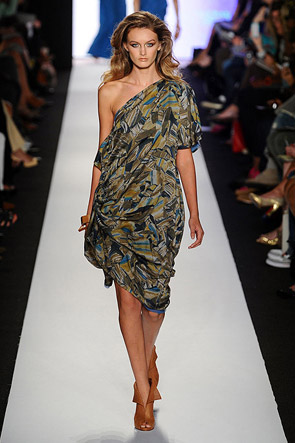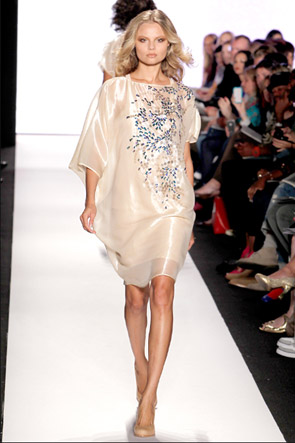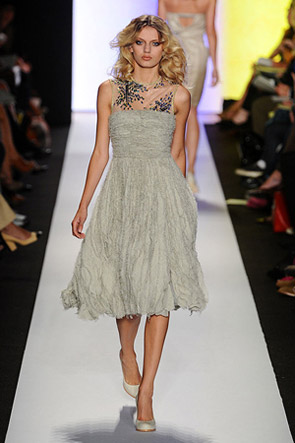 CF Runway Review:
The theme of this season's collection was "Essadi" – the pseudonym used by explorer Isabelle Eberhardt while journeying into Northern Africa in the 19th century, as the program explained, and the desert theme was apparent from the very first look, a smart khaki coat paired with tan skinny trousers and ivory boots.
As the show went on, the collection took us on a journey through the sand dunes to an oasis, where jewel-toned dresses, impeccably draped tops, and tailored shorts, all in liquid satins and silk chiffons, took the stage. Standout looks included a fluid bronze satin off-shoulder tee, paired with perfectly-tailored amethyst shorts and sky-high strappy sandals, and a beautiful emerald green satin dress, draped in every which way and cinched in at the waist with a white belt.
From the lush oasis, the collection journeyed on through the desert landscape, finishing with perhaps the best looks of the afternoon – a group of soft, sand-colored dresses in shiny silks and satins with twinkling crystal embellishments, evocative of a mirage amidst the sand dunes. Our personal favorite dress was a gray knee-length number in tattered chiffon, with a sheer neck and upper back section covered in iridescent crystals that sparkled in the light.
Overall, Ports 1961's Spring/Summer collection struck a perfect balance between an exploration of a rough, exotic terrain and an airy, imaginative dream world that still somehow felt down-to-earth and wearable.
Fashion Cliff-Notes:
Overall Themes:
Muted, desert-inspired neutral hues
Luxe textures and embellishments
Airy, lightweight pieces
Key Trends:
Liquid silk pieces
One-shoulder tops and dresses
Jewel tones for spring
Loose, natural-looking curls
Nude and muted neutral-colored heels
Pyrite and crystal embellishments
Your thoughts?
Check out the rest of the photos of Ports 1961's Spring 2011 collection, and let us know what you think! Which pieces would you wear? Are you a fan of the line? Which of these looks is your favorite? Let us know with a comment.