As many of you know, CF covered Mercedes Benz Fashion Week in New York City last season (Spring 2010), and we're here in NYC right now to cover the Fall 2010 collections as well. We'll be updating you with all of our NYFW coverage over the next few days, so be sure to stay tuned for all the latest from the Fall runways.
Our first show was Ports 1961. For those of you not familiar with the line, it was launched in 2004 by Canadian designer Tia Cibani under the Canadian sportswear brand Ports International. The signature Ports 1961 look is structured, elegant, romantic, and a little bit exotic. Celebrity fans of the line include Olivia Palermo, Sienna Miller, and Nicky Hilton.
Runway Photos:
Photos from New York Magazine. Click on each photo to enlarge.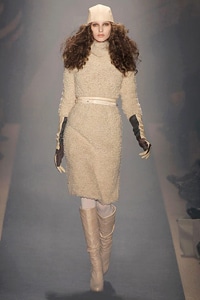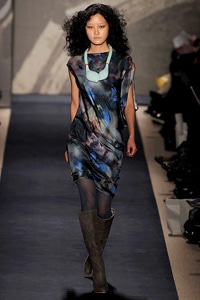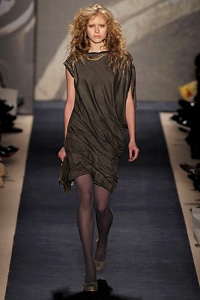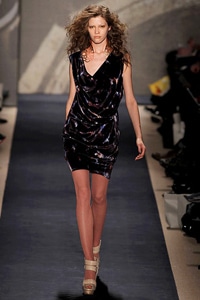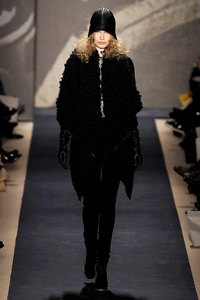 CF Runway Review:
Designer Tia Cibani explained in the program on each seat that her fall collection for Ports 1961 was an exploration of "discovery and invention", and the "tension between nature and technology". While the opening look, a white overcoat reminiscent of a plastic cutting board strapped to the model's chest, did not quite hit the mark with onlookers including City stars Whitney Port and Olivia Palermo (seated apart and shooting sideways glares at each other, of course), the majority of the collection felt appropriately earthy yet innovative.
Some of our favorite looks included draped dresses in painterly prints, nubby wool jackets with futuristic details, and leather leggings worthy of any model (or scripted-reality TV star) off duty. Similarly noteworthy were neoprene dresses that looked like liquid satin, while accessories such as bold statement necklaces and knee-high boots gave off an easy glamour vibe. By the end of the show, we "got it", and were even loving the cute little leather caps and 80s-fabulous blown-out hair.
Fashion Cliff-Notes:
Overall Themes:
Nomad appeal
Earth tones
Futuristic, minimalist silhouettes
Key Trends:
Tweed
Shiny fabrics
Statement necklaces
Draped dresses
Big, 80's-style hair
Leather caps
Colorful and patterned tights
Your thoughts?
Check out the rest of the photos of Ports 1961's fall 2010 collection here, and let us know what you think! Which pieces would you wear? Are you a fan of the line? Can you see the girls from The City rocking some of these looks? Let us know with a comment.