For the next part in our Mercedes Benz Fashion Week coverage, we attended Christian Siriano's fall runway show, a designer who I know needs no introduction here at CF. If you're a Project Runway fan (and I know most of you are), you undoubtedly know who he is! For those of you living on another planet, Christian Siriano won Project Runway season 4, and has been designing under his own brand name ever since.
Check out Christian's collection below, along with videos of the show, our review, and a cliff-notes-style breakdown of the trends we saw on his Fall 2010 runway.
My Videos of the Show:
I took some videos of the show from my seat to make sure that even if you guys couldn't attend, you could still watch the show here! Be on the lookout for Amber Rose, Mena Suvari, Leigh Lezark, and Caridee from Top Model – they were all in the front row, directly across from me, and appear in most of the videos.
Runway Show – Part 1
Runway Show – Part 2
Final Dress
This dress elicited a cheer from the audience – the entire place went nuts at the sight of it!
Runway Show – Finale
Watch for Christian's little bow at the end – so cute!
Runway Photos:
Photos from New York Magazine. Click on each photo to enlarge.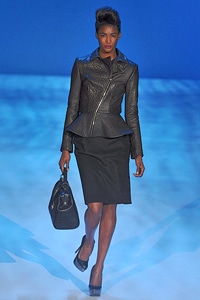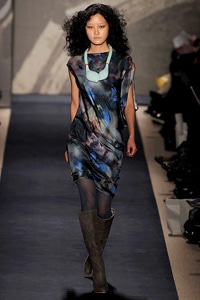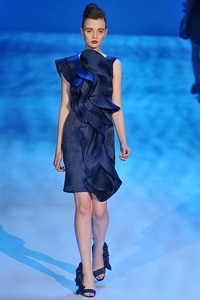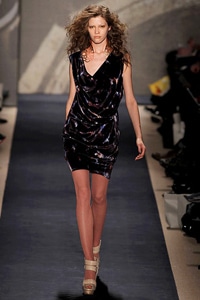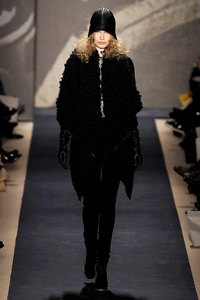 CF Runway Review:
We were very impressed with Christian Siriano's Spring 2010 collection, but the designer truly topped himself this season, while still keeping things simpler than ever. According to the program, Christian's Fall 2010 collection was inspired by "1960s European women – particularly Parisian women – who got dressed every day." Whether or not they were reminiscent of the '60s, the clothes certainly gave off an undeniably glamorous (and certainly a bit Parisian-chic) vibe.
While we were in love with every piece, from leather jackets with sideways zippers to ruffled dresses reminiscent of his Project Runway days (everything was extremely wearable), it's impossible to talk about Christian's fall collection without mentioning THE SHOES! The footwear, from Christian's Fall 2010 collection for Payless, truly stole the show. Our favorite was the Rocaille heel, a platform pump with a heel reminiscent of a silver clawfoot from an antique chair. Other styles we loved included the Chinoiserie Boot, a mid-calf, high-heeled patent boot with a metallic platform. As soon as we get high-resolution photos of these shoes, you'll see them here!
Overall, we were very impressed with Christian's Fall 2010 collection. While it was perhaps a bit simpler than what he has shown in the past, this restraint led to a line of extremely wearable yet fashion-forward clothes perfect for any glamorous woman. In addition, his shoes were to die for, and we can certainly see them selling out en masse at Payless come fall.
Fashion Cliff-Notes:
Overall Themes:
Glam, glam, glam
1960s Parisian women
Modern idea of "getting dressed"
Shoes inspired by antique furniture
Key Trends:
Metallic dresses and tops
Ruffles
Leather jackets
Draped dresses
Sideswept, wavy hair
Magenta
Zipper details
Strong shoulders
Your thoughts?
Check out the rest of the photos of Christian Siriano's fall 2010 collection here, and let us know what you think! Which pieces would you wear? Are you a fan of Christian and his designs? Let us know with a comment!