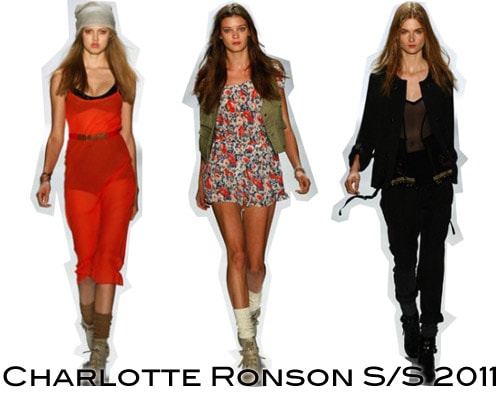 To continue our coverage of Mercedes-Benz Fashion Week Spring/Summer 2011, I'm here to show you the grungy-chic designs of Charlotte Ronson.
In case you didn't know, this designer comes from a pretty talented family. Her twin sister Samantha is a celebrity DJ, her older brother Mark is a famous music producer, and little sister Annabelle is a model, so with that much talent in the gene pool, it's no surprise that Charlotte Ronson has such an eye for design.
Ronson, who graduated from NYU with a degree in Studio Art, debuted her first line, C. Ronson, in 2000 and opened up her flagship store in May 2002. She is known to take a novel, playful approach to her feminine designs. Celebrity fans of the Charlotte Ronson line include Kate Moss, Jessica Simpson, Mischa Barton and Ellen Pompeo.
Runway Photos
Photos taken from ELLE.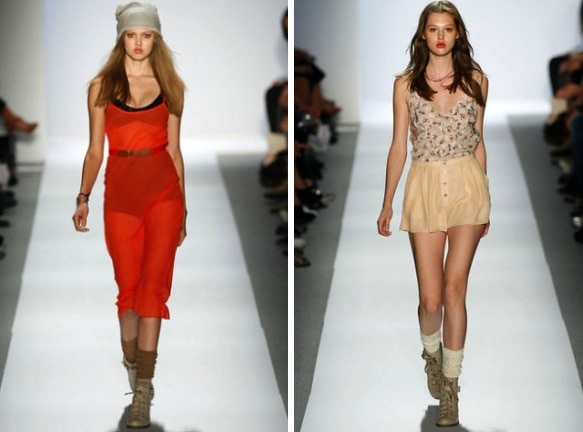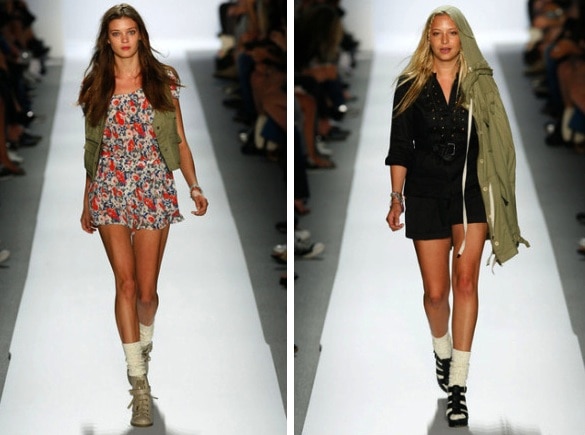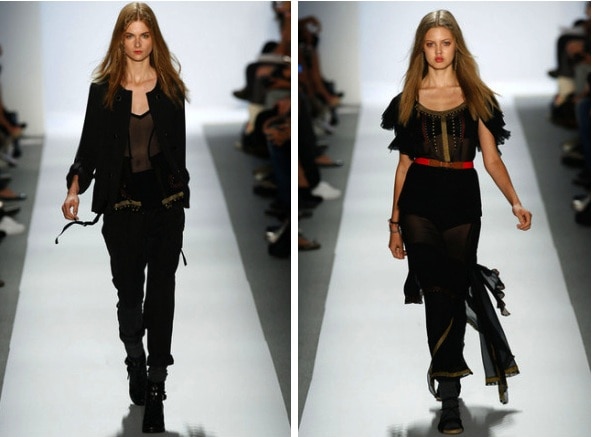 CF Runway Review
Charlotte Ronson definitely brought 90s grunge-glam back for her Spring 2011 collection, mixing gritty staples with soft, romantic elements.
Charlotte described this juxtaposition in her own words:
"It's about dressing down, but in a romantic way. It's grungy yet feminine."
The show began with a bright orange slip dress, cinched at the waist with a skinny black belt and accompanied by a knit beanie and thick, knit socks worn with nude lace-up ankle boots. As the collection continued, Ronson showed us her softer side with floral patterns and long flowy dresses. Layering was also a major feature of the collection: Dresses were worn over t-shirts and sandals were worn with socks.
From flowy slip dresses to army greens and denim blues, we followed Ronson's collection through a decade know for its free-spirited attitude. Slouchy sweaters, plaid shirts tied around the waist, loose beanies and scrunched-down socks rocked The Stage at Lincoln Center. Each model had long, flowing locks, stringy hair braids and a nose-ring.
For many in the audience, the show was like a nostalgic blast, helped in part by the essential '90s playlist created by Charlotte's sister Sam, which included "Laid" by James and ended with "Stay" by Lisa Loeb – one of my personal favorites. But, fortunately, Ronson's sense of '90s nostalgia was subtle; Feminine florals, sheer slip dresses and sheered hems showed Ronson is a romantic at heart.
Overall, Charlotte Ronson's Spring 2011 Ready-to-Wear collection struck the perfect balance between edgy and soft, grungy and romantic, and old and new. The looks were feminine and pretty, yet casual and laid-back – perfect for any college girl attempting to toe this line with her own style.
My view of the collection!
Fashion Cliff-Notes
Overall Themes:
Wispy, sheer separates
Feminine floral patterns
Soft, airy textures
Key Trends:
Knitted beanie caps
Sheer fabrics
Scrunchy socks and sandals
Combat boots and flowy dresses
Slouchy boyfriend-style sweaters
Plaid
Feminine slip dresses
Cinched waists
Long, stringy braids
What do you think?
Check out the rest of the photos from Charlotte Ronson's Spring 2011 collection, and tell us what you think! Would you wear any of the pieces in the collection? Which look is your favorite? Let us know in the comments!