Editor's Note: Every two weeks, our Models 101 column brings you the latest from the modeling world, including industry news, up-and-coming models to watch, new signings, and more. The aim is to give you a peek inside this fascinating industry and reveal what the trends in modeling say about the fashion industry as a whole.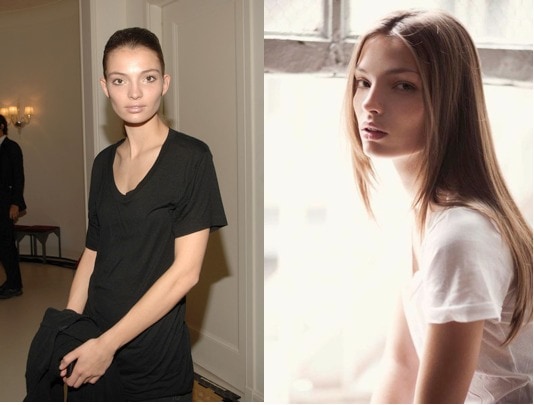 New faces are a crucial part of the modeling industry, as casting agents and designers are always looking for the next big thing. While some models are lucky enough to become regulars on the runways and magazine pages, the new girls are the ones that keep the industry moving.
Carola Remer is one of the standout "new girls" of the past few seasons, and despite her many successes, her fame is only beginning to take off.
This German stunner signed with her first agency, Fusion Models, in 2008 before switching to One Model Management in 2010. With the big switch, she started to garner significant attention and that year she was handpicked by esteemed casting director Natalie Joos to appear alongside other up-and-comers in V Magazine.
By 2011, Carola's career started to really flourish. Below, I'll give you a rundown of Carola's work over the past year – believe me when I say, she's one to watch!
Editorials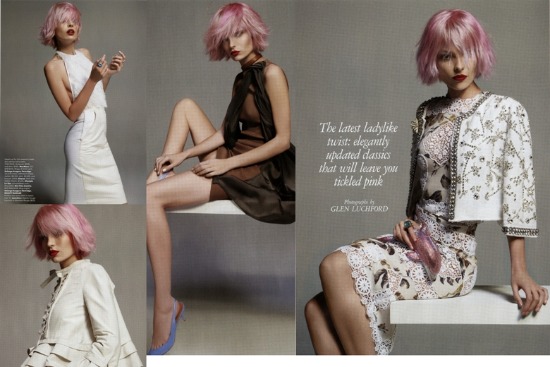 One of Remer's first major editorials was with Harper's Bazaar in March, and showed a pink-haired Carola lending a bit of edge to prim pieces from Calvin Klein, Valentino, Lanvin and more.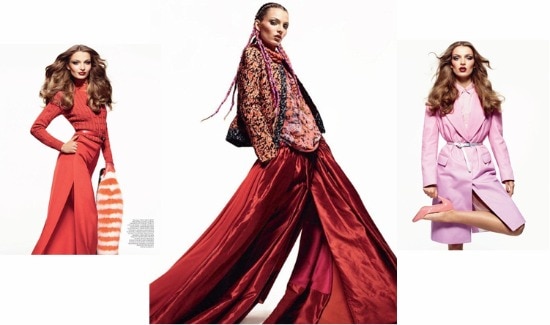 Next, Carola started consistently photographing with Daniel Jackson, who hasn't stopped catching her most gorgeous and inspiring moments since their shoot for Self Service magazine's spring/summer issue. The shoot used red and pink clothes and transitioned from a glamorous Carola to a more bohemian-inspired version, complete with cornrow-like extensions.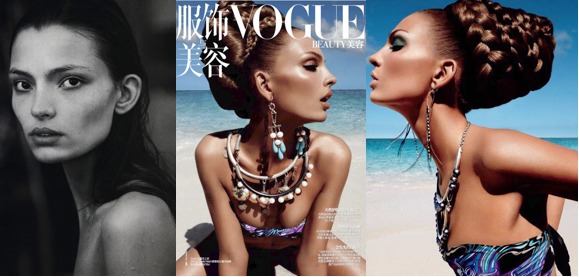 Carola's next two editorials were also shot with Daniel Jackson, both for Vogue China. The first, which came out in April, displayed a stunning black and white shot of the model with flawless skin and perfectly imperfect eyebrows. (See above left.) It is photos like this, which just focus on the model's beauty without ornate clothes or styling, that separate the best models from the pack. Here, Carola really shows she has what it takes.
The second editorial for Vogue China landed Carola on the cover of the magazine. With a breathtaking beach in the background and dripping in high-end jewelry, Carola looks stunning. Her impeccable profile is showcased throughout the spread along with Chinese model Ming Xi's.
On the Runway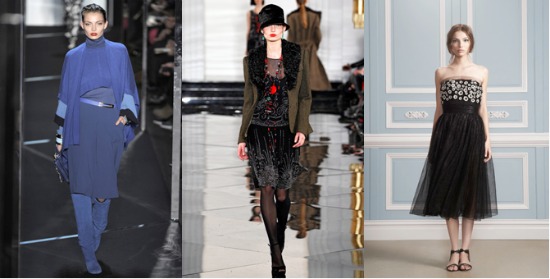 Photo Credits: Style.com
In her time not spent in front of the camera for Jackson, Carola kept busy by showcasing her runway talent. She walked in a handful of key shows during Fall 2011, including Diane von Furstenberg, Ralph Lauren, Emilio Pucci, and Halston. Her work on the runway didn't stop there, though: she walked in many Resort 2012 shows, most notably the Jason Wu show.
What's New?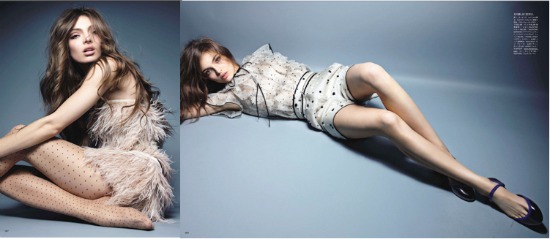 Carola's most recent work, photographed by Raymond Meier, was just published in the July 2011 issue of Vogue Japan. Styled in feathers and polka dots, Carola offsets the innocence of the clothing with her disheveled hair and alluring facial expressions.
It's clear that Carola Remer's modeling career is quickly gaining momentum, as she's been featured in nearly one widely seen editorial or fashion show per month. With her prominent features and photographic versatility, there seems to be no end in sight for this young woman. Be sure to keep your eye out for more of Carola's projects in the future and watch her rise from a fresh face to an unstoppable force within the industry.
Thoughts?
What do you think of Carola's look? Do you think she has what it takes to become a top model? Are there any other new girls that have been catching your eye? Let me know!