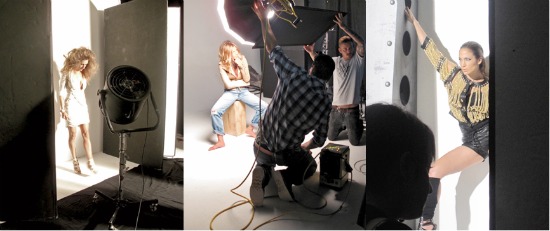 With each new season, designers unveil their freshest creations and we drool over every beautiful piece on the models that walk the runways. Yet, as much as I love the anticipation of the fashion shows, it's actually the ad campaigns that excite me most.
Unlike runway shows, ad campaigns almost never disappoint. Top designers always pick the most talented teams of photographers, stylists, models, and more to bring their garments to life. And as a fan of the modeling world, I'm always excited to see which models get picked for which campaigns.
For Fall 2011, it's no different. The recently-released campaign photos are simply gorgeous and feature some favorite faces along with a handful of under-the-radar girls. Ready to take a look? Read on to check out my four favorite Fall 2011 ad campaigns: Jimmy Choo, Prada, Bally, and Mulberry.
Prada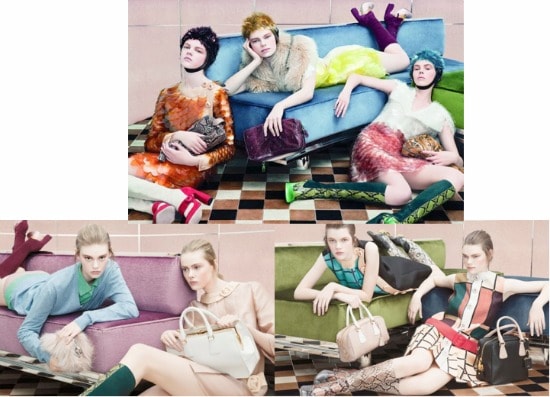 Courtesy of Prada
This season's Prada campaign features a host of new faces. Whereas other brands often rely on the popularity of a model to promote themselves, Prada seems to be taking the opposite approach, utilizing relatively unknown models in their new ads. Perhaps they hope readers will take an extra glance at the ads in an attempt to identify the girls.
The models, Ondria Hardin, Frida Gustavsson, and Kelly Mittendorf, have all done some work before, and in fact, Gustavsson is rather known within the modeling world. That said, none are really household names.
The campaign itself is gorgeous; the soft colors and pops of neon are enticing when woven throughout the multi-textural garments. With such standout pieces that look like they more easily belong on a runway than a real person, the lackadaisical facial expressions and posture of the models seem to be hinting that even fur shawls and snake print boots can work for any occasion (even lounging on the couch!).
Jimmy Choo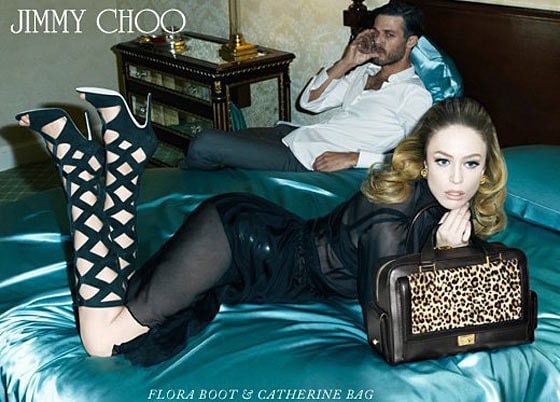 Courtesy of Jimmy Choo
Raquel Zimmerman always makes me do a double take. Her angular features and wide eyes are so intriguing, and she is quite versatile as well. Every now and then I have a hard time recognizing the Brazilian beauty.
In Jimmy Choo's latest ad, though, Zimmerman is unmistakable. Looking straight ahead, but not right at the camera, the model is the main reason this picture is so captivating. It's a bit of a mystery what she's looking towards, what she's thinking, and what the situation at hand is. The scene is surely glamorous but the expression across Zimmerman's face, as well as the male model Ben Hill's expression in the background, tells viewers there is more to the scene than we think.
Jimmy Choo seems to always do ads that are brimming with straight-up sex appeal, so, for me, seeing an ad from the brand with what appears to be a little more depth is rather compelling.
Bally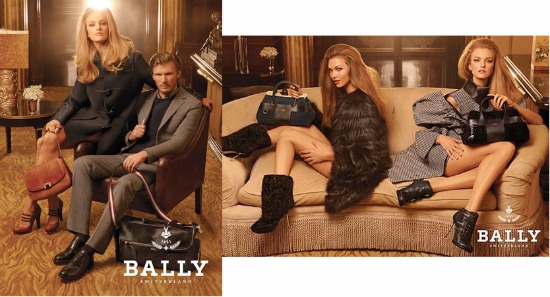 Courtesy of Bally
The colors in these Bally ads are ideal for fall: The warm browns and yellows of the background and lighting wash over the luxurious chocolates and grays of the clothing. I'm loving the '60s vibe that's being played up here, too, as evidenced by the voluminous hair and array of textures and cuts on the clothes. The toggle coat and the shag-like coat in particular truly scream '60s.
For this campaign, Bally cast some top models, namely Karlie Kloss and Caroline Trentini. The male model here, Nico Malleville, is a little less well-known but is on the rise – he's starred in campaigns for brands like Banana Republic and Hermes over the past few years.
Mulberry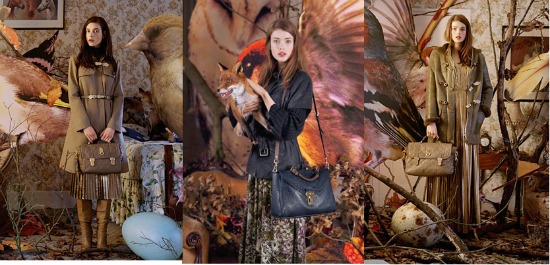 Courtesy of Mulberry
It takes a minute to figure out what's going on in these new Mulberry ads. Each model is in some sort of indoors-meets-outdoors space accompanied by animals and oversized images from nature. It is likely that the brand fully intended on creating such complex images as they definitely hold your attention as you try to sort out what's what. The warm tones of the clothes and ads themselves, like in the Bally campaign, call to mind the brilliance of fall.
The models here are Tati Cotlier and Julia Saner – two girls who have both had major editorial and campaign moments before but aren't necessarily easily recognizable faces. Cotlier has appeared as the face of houses such as Vivienne Westwood and Prada, while Saner has appeared in Valentino campaigns and spreads for Vogue.
Thoughts?
What are your favorite ads from this season? What do you think of the ads shown above? Do you prefer seeing recognizable models or fresh faces in campaigns? Let me know!