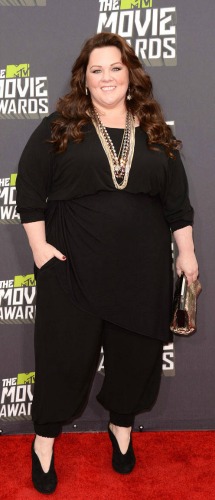 Photo: ELLE
WWD is reporting that actress Melissa McCarthy will be launching her very own fashion line next year. McCarthy teamed up with Sunrise Brands to create the line, which will include clothes, accessories, and beauty products for women.
In an interview with WWD, McCarthy stated:
"[I've been] every size on the planet. I have experience dressing me as a 6, a 12 and more. And when you go above a size 12, you don't lose your love of fashion."
McCarthy also said that Sunrise "isn't afraid to shake it up and bring plus-size up to fashion," but her line will carry more than just plus sizes:
"I'm doing all sizes. It's a strange thing to stop at a certain size. Women don't, so why should clothes?"
The yet-to-be-named line launches in fall 2015 and will feature casual sportswear priced between $39 and $118. Specific retailers haven't been chosen yet, but McCarthy's first fashion collection will likely debut in department stores and on an e-commerce site.
Your thoughts?
What do you think of this celebrity clothing line? Do you like that McCarthy wants her line to include a wide range of sizes? Would you buy anything from her clothing line? As always, remember to tell us what you think by leaving a comment below.