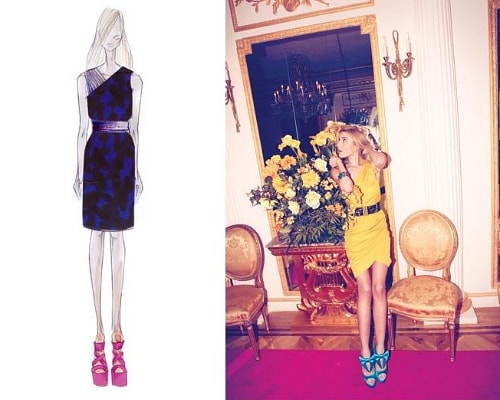 A sketch and look from Matthew Williamson's collection for Macy's
It was recently announced that Matthew Williamson will be designing an exclusive collection for the department store Macy's.
The collaboration will be part of the store's new line, Impulse, which features rotating capsule collections created by well-known designers. Impulse aims to attract a younger crowd to shop at the department store by featuring on-trend designer pieces.
Molly Langenstein, Macy's executive vice president of fashion and new business, explained the store's choice to collaborate with Williamson:
"The most important thing is finding designers that best represent what the trends are of the moment. This spring, the Seventies prints and colors are strong influences, and Matthew exudes those. He is tremendous at pops of strong color and he does dynamic prints reminiscent of the Seventies and the disco era."
Williamson also revealed the inspiration behind his capsule collection:
"The collection aims to capture the essence of the mainline brand, with a focus on effortless glamour; dynamic prints; loosely structured silhouettes, and pops of strong color."
According to WWD, the line launches on April 13th at 225 Macy's stores and online. The 30 piece collection will include party dresses, leather jackets and printed scarves that range in price from $50- $300.
Thoughts?
What do you think of this collaboration? Do you like Matthew Williamson's designs? Would you check out this capsule collection at Macy's? Make sure to leave a comment and let us know what you think!