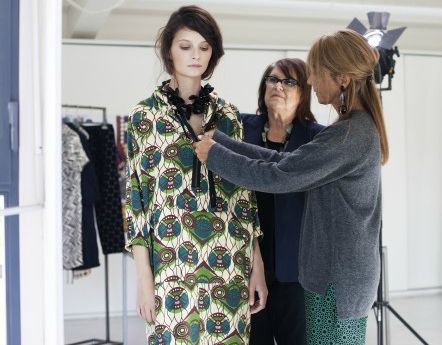 The highly-anticipated Versace for H&M collection may have launched just last month, but the fast-fashion retailer has already announced their next designer collaboration– Marni!
The Italian-based fashion house will be creating an exclusive collection for H&M that will include men's and women's clothing and accessories. Marni is known for their playful yet elegant aesthetic as well as their use of bright colors and bold prints, all of which will be included in the lower-priced line.
According to H&M, the women's collection will feature lots of African-inspired prints and color-blocking, while specific pieces will include everything from full pleated skirts and dresses to cropped pants and jacquard knits. The accessories collection is slated to include jewelry, shoes, bags and scarves.
Marni's founder and creative director, Consuelo Castiglioni, described the inspiration behind the collection:
"I wanted to create a true Marni wardrobe by revisiting all our favorite pieces in signature fabrics and prints. As always, I love juxtaposing prints and colors, mixing modern tribal with Bauhaus graphic and adding sporty utilitarian elements."
Marni for H&M will launch on March 8, 2012 and will be available online and at over 250 stores worldwide.
To tide you over until next spring, be sure to check out this video to learn some more about the collaboration and get a sneak peek at some pieces from the collection:
Your thoughts?
What do you think of this collaboration? Are you a fan of Marni? Will you be checking out this collaboration next spring? Remember to let us know what you think by leaving a comment below!