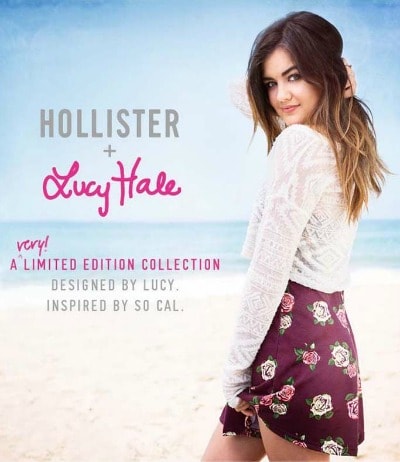 Photo Courtesy of WWD
If you're a fan of Lucy Hale and So-Cal style, then this upcoming collaboration will be right up your alley. WWD is reporting that the Pretty Little Liars actress has teamed up with Hollister to create two limited-edition collections that will both debut this month.
The first collection will be available this Friday, August 8, while the second launches August 29. Both collections include dresses, leggings, skirts, and tops priced between $19.95 and $44.95.
Hale spoke with WWD about the collaboration:
"I definitely lean more towards a laid-back look, which makes my style a great match for Hollister. I wanted to create carefree outfits that effortlessly transition from a coffee run to going out."
Earlier this year, it was announced that Hollister is trying to rebrand itself as a fast-fashion retailer in order to complete with fashion giants like Forever 21 and H&M. We have to admit that these limited-edition collections (designed in part by their first-ever celeb collaborator) seem like a step in the right direction.
Your thoughts?
What do you think of this collaboration? Are you a fan of Lucy Hale's style? Do you normally shop at Hollister? Would you buy anything from this collab? What do you think about Hollister trying to rebrand itself? Let us know your thoughts by leaving a comment.