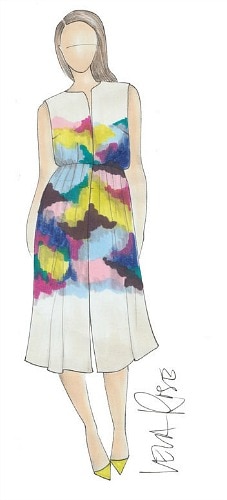 Courtesy Photo
Designer Lela Rose has teamed up with Lane Bryant to create a limited-edition line for the plus-size retailer. As shown in the sketch on the right, Rose will be incorporating her signature fashion aesthetic and watercolor prints into the collection.
Rose spoke with Glamour about her decision to collaborate with Lane Bryant:
"In [the plus-size] market, it's been these large, kind of nothing pieces that are either black or taupe. I think these women want print, want color, want fun. It's not like they want to cover themselves up. It's very much what our regular customer wants, actually. The mind-set is virtually the same."
The collection, called Lela Rose Exclusively for Lane Bryant, will be available online and at select Lane Bryant stores next summer.
Rose told WWD that she hopes other designers will follow in her footsteps:
"It's not easy to buy sizes larger than a 14 or 16 in a lot of places. Hopefully, we will see more designers doing larger sizes and stores will start thinking more broadly about what size ranges they offer."
Your thoughts?
What do you think of this collaboration? Are you a fan of Lela Rose? Do you shop at Lane Bryant? Do you like the sketch? Should more designers offer plus-size options? Remember to tell us your thoughts by leaving a comment below!