This post may contain affiliate links, which means we may receive a commission if you purchase through our links. Please
read our full disclosure here
.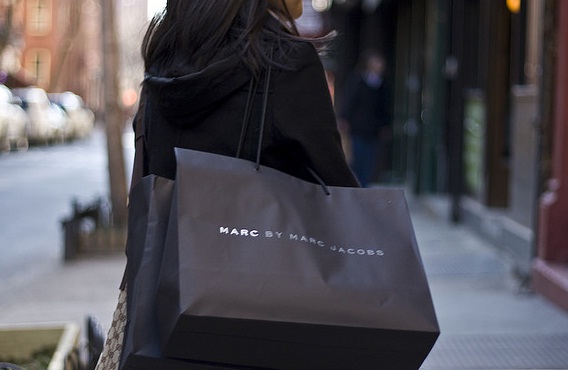 You voted and now it's here! For this edition of Know Your Fashion Designers, we're featuring the short biography, outfit inspiration and further reading on Marc Jacobs. We've covered Marc's personal style before and, since you guys are such big fans, we're always quick to update you about his latest collections and cutest merchandise.
If you've been keeping up with this series so far, you know that other designers that have been spotlighted include Chanel, Prada, Gucci, Valentino, DVF, Donna Karan, Manish Maholtra, Michael Kors, and Calvin Klein. Check those posts out if you missed them!
Ready for your next fashion lesson? Read on to learn more about American designer Marc Jacobs!
10 Facts About Marc Jacobs: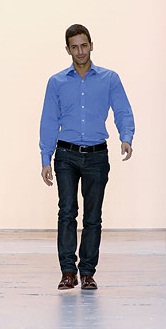 1. Marc Jacobs was born on April 9th, 1963 in New York City.
2. Marc graduated from the High School of Art and Design and went to Parson's School of Design. There, he was the recipient of the Design Student of the Year award, among others.
3. In 1987, Marc received The Council of Fashion Designers of America (CFDA) Perry Ellis Award for New Fashion Talent, a year after he designed his first Marc Jacobs collection.
4. He went on to win seven CFDA awards including Womenswear Designer of the Year, Accessories Designer of the Year and Menswear Designer of the Year.
5. Marc introduced his more affordable line, Marc by Marc Jacobs, in a Spring 2001 runway show. Then, in 2009, he released a collection under the Marc by Marc Jacobs label called "Don't Miss the Marc", which featured colorful, playful and more affordable clothes – compared to his designer label, anyway!
6. In 2011, Mr. Jacobs was ranked 12th on Out magazine's annual list of "50 Most Powerful Gay Men and Women in America".
7. Marc is currently the Creative Director at Louis Vuitton, a position he has held since 1996.
8. Like some of the other fashion designers we've featured, Marc is on Twitter (although he leaves most of the tweeting to his business partner, Robert Duffy). His handle is @MarcJacobsIntl. You might remember his Twitter challenge, where he asked followers to send the wittiest tweet to snag an interview for a job as his personal Tweeter. (You might also remember the controversy surrounding his disgruntled intern's tweets!)
9. Marc, along with his business partner, Robert Duffy, frequently give back to communities where they have stores; they're involved with more than 60 charities across the globe.
10. Mr. Jacobs has a TON of tattoos. His exclusive tattoo artist, Scott Campbell, has applied the following images to MJ's body: an M+M's character, SpongeBob Squarepants, a Simpsons-style portrait of Marc himself, a couch, and the phrases "Shameless", "Bros before Hos", and "Perfect". It's estimated that Marc has around 30 tattoos. When asked about his tattoo collection, Marc Jacobs said the following:
"Will I regret it someday? I don't know, but I'm not going to deny myself this pleasure today because of what I don't know in the future."
Outfit Inspired by Marc Jacobs: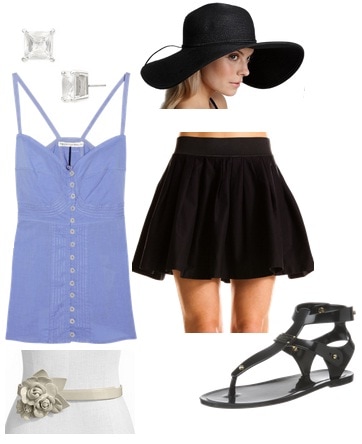 earrings, hat, tank, skirt, belt, sandals
While his body may be covered in crazy tattoos, Marc Jacobs loves the basics when it comes to clothing – you can often find him rocking a button-down shirt and one of his trademark skirts. For the summer season, I substituted a button-down tank for the collared shirt to pair with a simple black skirt, while the floppy hat and flower belt are reminiscent of Marc's Spring 2011 collection, which featured enormous sun-hats and large floral embellishments. Finish it off with your own Marc Jacobs sandals and diamond studs.
Extra for Experts:
Marc Jacobs and his company have published many books featuring their advertisements, artwork and portraits. If your eyes are tired from reading too many textbooks this week, check out these picture-heavy page turners for more information on Marc Jacobs and his company's work!
Thoughts on Marc Jacobs?
What are your thoughts on Marc Jacobs? Is he your favorite designer? Do you have any other facts you want to share about him? Do you love his many tattoos? Please tell us what you think!
And remember to leave a comment and vote for the next designer to be featured on Know Your Fashion Designers. The one with the most votes will be featured next round!