This post may contain affiliate links, which means we may receive a commission if you purchase through our links. Please
read our full disclosure here
.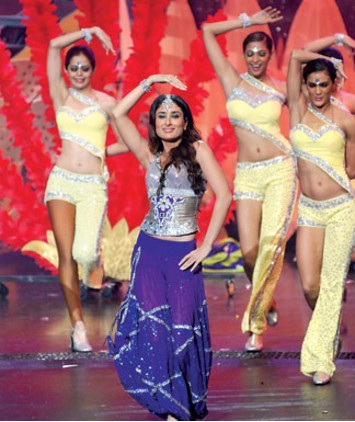 It's time for another round of Know Your Fashion Designers! And as requested by many of you guys, our attention this week is directed to India, where fashion designer Manish Maholtra rules over Bollywood, bridal, and celebrity fashion. Pronounced Ma-neesh Muhl-ho-tra, this Indian designer utilizes traditional bright colors as well as sparkling embellishments in his collections. From the looks of it, this hot new designer's career going nowhere but up!
Don't forget to check out past KYFDs: Diane von Furstenburg, Coco Chanel, Valentino, Miuccia Prada, Guccio Gucci, and Donna Karan.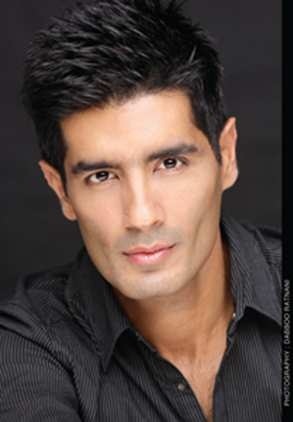 10 Facts About Manish Malhotra
1. Born in 1965, Manish Maholtra grew up knowing he wanted to become a part of the fashion industry, choosing to forgo taking over his family's business to pursue a fashion career.
2. Unlike many of the other fashion designers we've discussed here before, Manish had no formal training in fashion design.
3. When he was 25, Mr. Malhotra entered the Bollywood fashion design scene. His first gig was designing costumes for the Hindi film Swarg for the beautiful Indian starlet, Juhi Chawla.
4. His fame began to grow when he won Best Costume Designer at the prestigous Awards of the International Indian Film Academy in 2001 and 2002.
5. He was the first Indian fashion designer who always requested to read scripts before designing the costumes for a film.
6. Manish has already designed for countless celebrities. Even though most of his celebrity clients are Indian starlets, names you may recognize include Aishwarya Rai (she was the lead in Bride and Prejudice) and Michael Jackson. (Yes, that Michael Jackson!)
7. He's been described as a realistic, down-to-earth person, regardless of his celebrity status. His grounded nature may to attributed to his middle-class upbringing.
8. Manish opened his first boutique in 1998 that featured his couture fashion designs.
9. This man is quite the trendsetter in India – he has been given credit for popularizing embroidered jeans, among other trendy looks.
10. In 2005, Manish began filming his own talk show, The Manish Malhotra Show on the Zoom channel, elevating his celebrity status to new heights.
Outfit Inspired by Manish Malhotra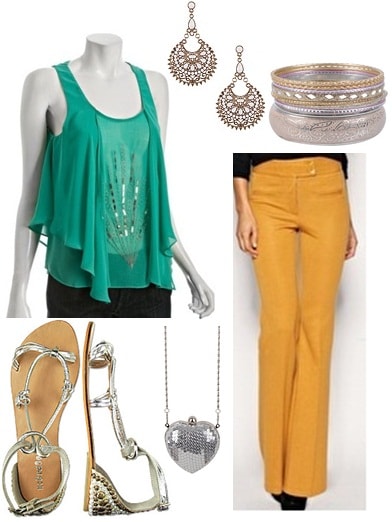 Product Information:tank top, earrings, bracelets, sandals, glitter clutch, pants
If you really want to channel Manish Maholtra's aesthetic, you have to embrace bright colors, like these yellow pants and this green top. Need some tips on pulling off this look? Check out our articles on wearing multiple bright colors together and the mixed brights fashion trend.
Bollywood style often incorporates sparkle in the form of bangles and embellished pieces, so pile on those bracelets and make sure you shine in all the right places – this gorgeous top has just the right amount of sparkle to give it some interest. Finally, accessorize – the glitter heart-shaped clutch is a nod to Manish Maholtra's egg clutch that he and Stella McCartney showcased in their fashion shows back in 2009 and Alexander McQueen in 2008.
Extra for Experts
Unlike the other designers we've featured, there aren't many books out yet focusing on Manish Malhotra's career, but there are still other fun references you can go to for more information on Manish Malhotra!
Thoughts on Manish Malhotra?
Would you wear a Manish Malhotra gown to a party? Do you wish he was more popular in America? Will you be the first to write a Manish biography available in the US? Share your thoughts and opinions! And as always, please suggest the next designer you'd like to learn more about – we take your opinions into account when choosing who to feature!