College Fashion heard about Go Blog Social through the grape vine and just had to find out more. We got to chat with Kathryn Elise Snellen, co-founder of GBS and independent blogger, about starting a business, personal style, and why getting involved with GBS can change your blogging career for the better.
The Interview:
Molly Lamoureux: Before we get into Go Blog Social, I want to know a little bit about you.
Kathryn Elise Snellen: I earned my Bachelor of Journalism with a focus on public relations and marketing at the University of Missouri in Columbia. Prior to launching Go Blog Social in 2013, I was working in the public relations industry as a consultant for a variety of national beauty companies. Currently, I own a boutique agency that offers creative perspective for brands with a focus on three services: public relations, social media and events.
ML: What was your style like in college?
KES: During college, I held a variety of internships that focused on fashion public relations and event planning. Living in NYC during college shaped my personal style and I took a lot of the minimalistic yet classic outfits that I would see on the streets into my own wardrobe.
Of course, I would be lying if I didn't say I took the comfortable route when it came to going to my morning classes! I was a Victoria's Secret PINK representative, so having an abundance of comfortable clothes was a perk.
ML: What's your style like now?
KES: My style has evolved over the years, but I've always leaned toward classic, effortless pieces. I work from home currently, but am often at client meetings or events throughout the week, so it's important for me to have a wardrobe that is flexible and can go from my desk to a quick appointment.
ML: What are some of your go-to pieces in your closet?
KES: In the past year or so, I've been working on creating a 'capsule wardrobe.' Essentially, that includes a select amount of quality pieces that can be mixed-and-matched with other items I own. I love a great pair of denim, a few lightweight blouses that can be dressed up or down, shift dresses and a fun jumpsuit. If you looked into my closet right now, you'd notice a color trend of white, gray, blush, black and nude!
ML: Do you have any fashion guilty pleasures?
KES: Handbags are my splurge. I don't purchase them often, but when I do, I know it's worth the investment. Each year, I'm likely to invest in a nice tote (that holds my laptop!), a smaller style bag and clutch, or something just for fun.
ML: Okay, onto Go Blog Social. For people who don't know (which is most of us), what is GBS?
KES: Go Blog Social is a Midwest-based blog and social media conference that is designed to educate, inspire and offer networking opportunities for like-minded bloggers, creatives and entrepreneurs. Go Blog Social currently offers a variety of conference experiences, including our annual two-day event, workshops, pop-up conferences (in a different city!) and meet-ups.
In addition to events, Go Blog Social has a growing community online of bloggers and brands. We have some exciting things in the store for the future of Go Blog Social with the recent launch of GBS Connect and other digital experiences.
ML: What's the GBS team like?
KES: I am the co-founder of Go Blog Social, along with my partner Sarah.
We brought on a few team members that have played a role in shaping and supporting the events for Go Blog Social. I'm thankful for the community that Go Blog Social has formed and feel lucky to work with an incredible, supportive team.
You can learn more about our team on the website.
ML: You and Sarah are co-founders, so how did GBS start?
KES: We came up with the idea of Go Blog Social over a cup of coffee. Sarah is a lifestyle blogger and wanted to connect with me regarding my career in public relations. The topic of blog conferences was brought up and it was like a light bulb that went off for both of us. We knew that the Midwest (and specifically, Kansas City) was missing a supportive, affordable conference experience specifically for bloggers and creatives. Things moved pretty fast from there!
ML: Tell me a little bit about your GBS events.
KES: Since we are based in Kansas City, the core events for Go Blog Social take place in our hometown, including the annual two-day conference. (Which was held April 3 and 4 this year.) We have held events in the past in the Chicago area and are always exploring other potential cities that would be a fit. Our meet-ups and networking events are always free, while our conferences and workshops are within an affordable range of about $75 – $200.
The content presented ranges from blogging, entrepreneurship, social media and career. Within those areas, we look to provide unique speakers that have interesting stories to tell and can provide meaningful tips and takeaways for our attendees. Our goal is for you to leave our events with lots of fresh ideas, a dose of inspiration and the insider knowledge to take your blog or biz to the next level!
ML: Where would you like to see your business head in the future? What kind of improvements would you like to make?
KES: We are always reevaluating our event and digital experiences to make sure they are fitting the needs of our current and future network. We're hoping to have the opportunity to reach people in their cities by bringing event experiences from Go Blog Social to them. We have some other fun things in store, but you will have to follow up on social media to learn more!
ML: Would it be silly of me to assume you have your own blog?
KES: I currently blog for my business, Kathryn Elise Studio. I am passionate about sharing career and lifestyle advice that can motivate and inspire others. I also keep an active presence online and make sure that my content is honest, helpful and stylish for my followers (most of which are interested in fashion and entrepreneurship).
ML: What advice do you have for college students who want to start their own blog?
KES: Just go for it! I started my first blog while in college, and while it was not my best work, I can say that it was worth the experience. I've seen many people turn their blog into something bigger than they expected, like a business. It's interesting how you learn more about yourself and your passions when you decide to publish your own content with the world.
Oh, and many employers are very interested in those that have experience in blogging, as it take a lot of creativity and hard work (i.e. writing, HTML, design, photography, etc.).
ML: What would you say to people who are on the fence about attending GBS?
KES: It's important to invest in your blog or business. Attending a blog conference is a great opportunity to not only learn the tools it takes to grow your brand, but it's a great way to network! Whether you're interested in connecting with brands for your blog or meeting fellow bloggers, there are endless opportunities to learn more about the industry.
I've seen firsthand many exciting partnerships and relationships evolve as a result of Go Blog Social – it's all about putting yourself out there to try new experiences.
How to Dress Like Kathryn
1. Create a monthly budget for your wardrobe.
KES: I've been told that you are only supposed to spend 5% of your monthly income on clothing. Seems like a small budget, but it can be done!
2. Invest in quality over quantity.
KES: You don't need eight different dresses that you will wear once. You do need three or four quality dresses that will get at least a year of wear. Example: a dress for interviews or important business meetings, something fun for weddings or formal events, a little black dress that works for all occasions, something in a color that you feel confident in, etc.
3. Find your personal style and dress for your body type.
KES: There is no rule that you have to try (and look good) in every trend! Think about your personality, lifestyle and interests to create a wardrobe that reflects you. Wear pieces that make you feel beautiful and amazing, and you can't go wrong!
Outfits Inspired by Kathryn
Trendy & Girly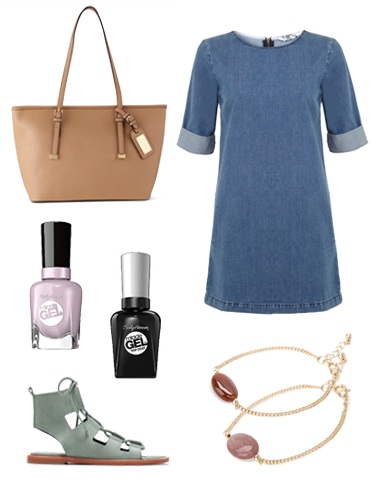 Product Information – Dress: Miss Selfridge, Bag: Aldo, Bracelets: Mango, Sandals: Zara, Gel Nail Polish: Sally Hansen
Classic & Clean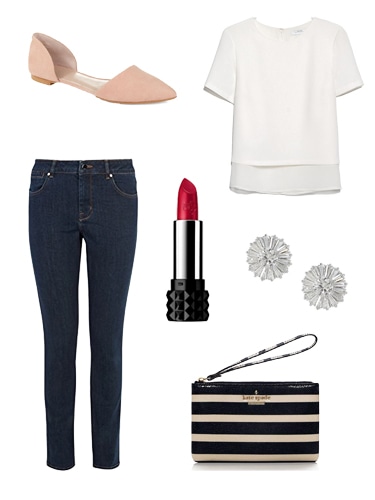 Product Information – Jeans: Karen Millen, Top: Mango, Earrings: Express, Flats: Lord & Taylor, Lipstick: Kat Von D, Wristlet: Kate Spade
What do you think?
Does Kathryn Elise's independent work ethic and motivation inspire you? Would you ever consider going to a GBS event or sharing the information with your friends? What do you like about Kathryn Elise's style? Remember to post your comments and questions below!