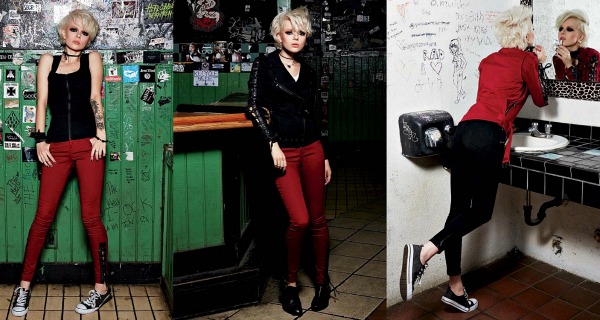 Joan Jett's Collection for Hot Topic (Click to enlarge.) | Photos Courtesy of WWD
WWD is reporting that rock 'n' roll legend Joan Jett has created a collection for retailer Hot Topic.This is Jett's first ever fashion collaboration, and she partnered with Daang and Ray Goodman of Tripp NYC to design the collection.
Jett spoke to WWD about the collab:
"I've known about Hot Topic for years and years because on the road there are very few places in certain areas of the country where you can find kind of rock 'n' roll clothes. And Tripp is kind of famous in New York for catering to that rock 'n' roll downtown, edgy kind of vibe."
Called Joan Jett for Tripp NYC, the capsule collection includes tank tops, moto jackets, and jeans that capture her iconic style. According to Jett, the pieces are androgynous, and are meant to appeal to both men and women. The collection is available online and in stores now, with prices ranging from $32.50 to $64.50.
Your thoughts?
What do you think of this collaboration? Are you a fan of Joan Jett's style? Do you normally shop at Hot Topic? Do you like that the line is androgynous? Let us know what you're thinking by leaving a comment!