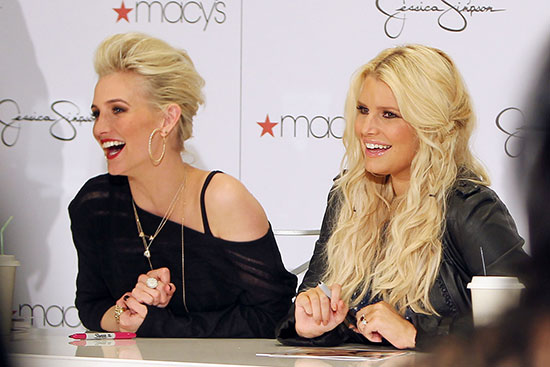 Jessica (right) with sister Ashlee Simpson at an event for their clothing line | Photo: Pacific Coast News
Celebrity designer Jessica Simpson is set to branch out from shoes, handbags, perfumes, and apparel. Next year, Simpson will be adding bedding and home decor products to her mega-successful line.
According to WWD, Simpson's new line will feature comforter sets, duvets, sheets, embroidered quilts and bedspreads, and accessories like decorative pillows, bed skirts, euro shams, throw blankets, and draperies.
Style-wise, the collection will embrace "bohemian prints, delicate florals and soft, romantic ruffles combined with more neutral textures and chambray in an assortment of hues".
Said Simpson of the line,
"Home interiors have always been a passion of mine. I spend a lot of time at home and even more so as a mom. I always aspire to create a sanctuary for myself and my family. The collection is perfect for both the young lady who is setting up her first space and the family who is setting up their home."
The collection is set to launch in Spring 2014 at department and specialty stores. Prices will range from $40 for decorative pillows up to $179 for comforter sets.
What do you think?
Are you a fan of Jessica's shoe and apparel lines? Would you buy Jessica Simpson home decor? Are you excited for this new line? Let us know by leaving a comment.