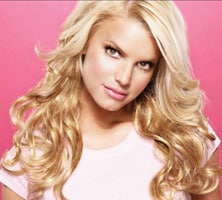 America's favorite ditzy pop-star slash actress is now expanding her mini retail empire to include swimwear and perfume.
Jessica Simpson announced recently that she is working on designs for a swimwear line that will debut next month at Mercedes-Benz Fashion Week in Miami, FL. The line is said to include both skimpy bathing suits and more modest one-pieces.
Jessica is also partnering with Camuto Group and Parlux Fragrances, Inc.("Parlux") to launch her own "signature fragrance", set to debut in July 2008, in the U.S. The fragrance will "reflect Ms. Simpson's style, personality and confidence."
In the press release, Jessica stated "I wanted to partner with a company that would be able to express my personality through a fragrance. After meeting with Parlux, I'm extremely excited to start the development process with them."
The swimwear and perfume lines will add to the already established Jessica Simpson brand, which today includes shoes, handbags and clothing.
SOURCES:Sys-Con Media and Women's Wear Daily