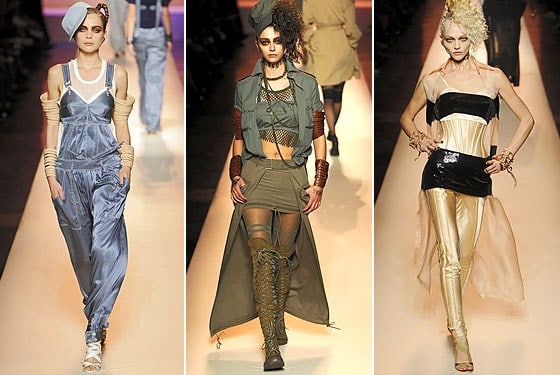 Photo credit: The Cut
The fashion blogosphere is going nuts today because WWD just announced that Jean Paul Gaultier is going to do a collection for Target!
The line will be released on March 7, 2010 in more than 250 Target stores and on Target.com, and will be available until April 11th, 2010. This collection will be harder to find than Anna Sui for Target – her collection was released in 600 stores and online, compared to the only 250 stores Gaultier will have.
When asked about the inspiration behind this collection, reps for Target said Gaultier's muse was "the American woman", and that his collection will be all about "celebrating the forces of style both past and present in American pop culture."
Gaultier will be the third designer to participate in Target's Designer Collaborations series, following in the footsteps of Alexander McQueen and Anna Sui.
If you think you're not familiar with Jean Paul Gaultier's work, think again – he's responsible for Madonna's infamous stage costumes in the 90's. He also pioneered the "innerwear as outerwear" movement, and is known as a master tailor in the industry. If you want to see more of his work, search for him on Style.com – he's incredible!
What do you think?
Personally, I'm SO psyched about Gaultier for Target! He is one of the most famous and highly regarded designers out there, and I'm sure his collection will not disappoint. I can't wait to see the first photos of his Target line, which will undoubtedly leak soon!
What do you think? Are you excited about Gaultier for Target? Leave a comment and let us know!