This post may contain affiliate links, which means we may receive a commission if you purchase through our links. Please
read our full disclosure here
.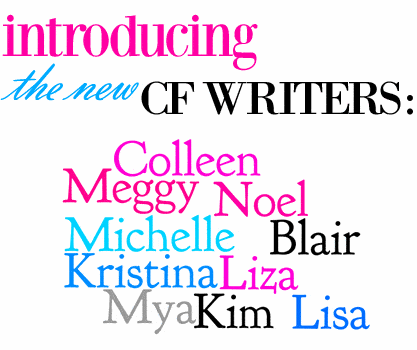 Those of you who read CF regularly probably know that I was looking for new writers a few months ago. After combing through over 200 applications (!!), I've finally narrowed it down to ten fabulous girls who are going to be contributing their thoughts on fashion this fall semester.
What's Changing at CF?
If you're worried that new writers mean everything will change around here, don't be! Nothing is going to change drastically – the CF you know and love will still be here, and I'll still be writing lots of articles as always. Things are only going to get more fabulous, promise!
Here's what you can expect to see here over the next few months: more frequent updates with even more fresh new articles and fashion tips, up-to-the minute fashion news and trend information, New York Fashion Week coverage (less than 2 weeks away), a more national perspective on fashion (no more New England-centric fashion posts), and much more! I also have a few BIG secret projects in the works that I know you guys are going to love. (More on those soon!)
Without further ado, here's some info about the new CF writers, listed in alphabetical order..
CF's New Fall 2009 Writers:

Blair – University of North Carolina – Our resident sorority girl, college fashionista, and interior design maven, Blair will show you how to live the fabulous life on a student budget – from designing your dorm room to dressing your best at all times.

Colleen – New York University – A city girl with an eye for style, Colleen knows a lot about fashion, as well as what to wear and how to wear it. Expect her tips and outfit ideas to help you dress well for any occasion.

Kim – California State University – From the west coast, Kim is a sophomore graphic design major who wants to work for a fashion magazine one day. She's been blogging for years and will be covering everything from the online fashion world to runway trends, street style inspiration, and everything pop culture.

Kristina – University of Arizona – Kristina, a senior studying Psychology and Spanish, has an eye for the trends and is always on the lookout for well-dressed fashionistas on campus! After graduation, she plans to attend FIDM in LA as a professional designation candidate in apparel manufacturing management.

Lisa – Barnard College – Former Teen Vogue intern and beauty blogger at College Beauty, Lisa will tell you everything you need to know about looking and staying gorgeous while in college – from makeup to hair and everything in between.

Liza – University of Minnesota – A Journalism major with a great eye for fashion, Liza is your go-to girl for everything from shopping ideas to truly useful fashion tips. Expect to read a lot of her stuff in the months to come!

Meggy – University of Wisconsin Madison – Meggy is a Retailing major (emphasis on fashion), with a minor in Business. She takes an intelligent, practical approach to fashion and believes in dressing to suit your individual personality and body type – never mindlessly following the trends. Look to her for practical tips for dressing well without losing your individuality.

Michelle – College of Idaho – A college student who loves writing, vintage shops, poetry readings, and scrapbooking, Michelle knows style on a budget and will show you how to navigate the thrift shops to get a fabulous vintage-inspired look without spending a lot.

Mya – James Madison University – Mya says it best on her blog – she's a "VA college student struggling to balance dreams of fabulosity with the realities of one's wallet." Check back later today to read the first of her posts for CF.

Noel – Columbia University – You probably already know her as Miss Couturable, but the fabulous Noel is going to be writing for CF this semester too! As a former Seventeen Magazine intern starting her freshman year of college in NYC, Noel will be writing about everything from wallet-friendly versions of runway looks to her adventures budgeting and shopping in the city.
Any Questions?
There you have it, the 10 new writers you'll get to know over the next few months. I know you guys are going to love them as much as I do!
In the meantime, feel free to ask any questions you may have in the comments section. I'll be more than happy to answer them, as always! And if you have any questions for any of the writers, feel free to post those in the comments too!
Hope you're all as excited as I am!