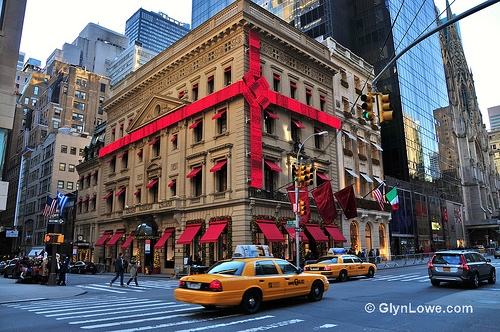 When I ran into Chrissy Sheahan at an NYC preview for the new Cartier short film, L'Odyssée de Cartier, she was busy making sure that the incredible cocktail party, held at The Metropolitan Museum of Art, went off without a hitch. After the soiree, which was a fabulous success, I asked her to help me kick off a new College Fashion mini series, Interviews with Fashion Insiders.
In this series, I will ask different members of the fashion industry about their backgrounds and jobs, and of course, ask them to provide tips for CF readers who want to work in the fashion industry. This way, you guys will get an insider's perspective on fields that you one day might want to pursue.
About Chrissy
Chrissy, who I got to know during my internship at Tiffany & Co, now works in Public Relations and Events at Cartier. During my internship, when she worked in Events at Tiffany's, she was so helpful and nice, and those qualities shine though in her willingness to provide some very useful tips for College Fashion readers. It was so interesting for me to hear her responses because she – like many of you – did not study fashion in school. She's proof that it's possible to enter the industry no matter what you major in!
Our Interview with Chrissy
1. Tell me about your background. Where are you from? Where did you go to school and what did you major in?
I am from Huntingtown, Maryland, a small town outside of Washington DC. I studied Economics and Finance at The University of Maryland.
2. Did you have any internships, during or after college?
Yes, my first internship was with a Public Affairs firm in DC – I worked exclusively with their client, The Office of Champagne, to protect the champagne name, as it should be used exclusively for wines from the region in France. During my senior year of college, I moved to New York for 3 months in the summer and interned at Cartier in the PR department and fell in love with New York and the jewelry industry and realized I wanted to do PR. I graduated college in December 2008, in the height of the financial crisis, and wanted to go back to Cartier as an intern but there were no positions available and also a hiring freeze as a result of the economy. However, Van Cleef & Arpels needed a full time PR intern so I applied and luckily got the position! I worked there for a year doing Press & Celebrity Relations until I landed my first full-time job.
3. What was your first job? Where else have you worked besides Cartier?
My first full time job was in the Events department at Tiffany & Co – I was a PR Assistant, assisting boutiques throughout the East Coast with invitations. It was nice to learn another aspect of the PR department that wasn't dealing with press, but instead working with the boutique staff to reach out to the clients and secure sales through in-store events and local sponsorships.
4. Have you always wanted to work in fashion?
I didn't realize I wanted to work in fashion or luxury until I interned at Cartier. I was always more interested in reading magazines than my textbooks, but then I realized that my work could be putting jewelry in those magazines I loved so much! It wasn't until I completed those 3 months at Cartier that I knew I wanted that to be my career.
5. Tell me about your job – what is a typical workday like?
Our days are jam packed! I normally get in at 8:30am – get my coffee and check my email. We normally have morning meetings to go over projects we are working on. I split my time between Press and Events, so I get to deal with all aspects of the PR department, and we always have so much going on with new launches and client events that there is never any time to be bored! We also work in a pretty open office so it is social and fun – since we all collaborate on projects, it makes the job easier. Normally everyone is out of there around 7 or 8pm for the day.
6. What are your favorite things about your job? Your least favorite?
I have to say that the best part of my job is being able to see some of the world's most amazing and creative jewelry every single day. Cartier has such a rich history and we really do get to hear and tell the stories on a daily basis, whether it be pitching to the press or coming up with an event concept or invitation idea. My least favorite part? Not being able to bring the jewelry home with me!!!
7. Do you have any tips for a college student who wants to work in Public Relations or at a global luxury brand?
Take as many informational interviews as you can and take advantage of as many internships as you can; experience is a valuable asset. All of my professional lessons have been learned from former and current bosses, and also people in the industry who I have met and who have given me important advice. Whether it be helpful tips for your resume, or advice on what to wear on your first day at the job, there are valuable lessons to be learned from everyone around you! And, most importantly, read an email in its entirety before asking questions or replying, make sure your attachments always open for you before pushing send, bring a notebook with you everywhere, and be as resourceful as possible before asking for help. No matter who you are in the company, your personal and professional reputation is built on the smallest concepts that make you a reliable human resource.
8. What is one thing that you wish you had known during your first job or internship?
Some of the work can be done tomorrow…. Get done what needs to be done today and come in tomorrow ready to tackle the rest.
Your thoughts?
Does Chrissy's story inspire you? Did you enjoying reading this interview? Would you like to read more interviews with people who work in other parts of the fashion industry? Do you have any other questions for Chrissy? Let us know by leaving a comment!