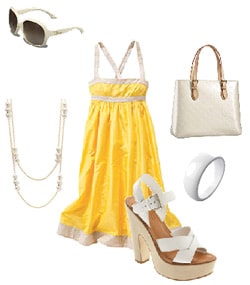 When I was 9 or 10 years old, I was completely obsessed with the movie Clueless. Even though I didn't get most of the jokes, I watched it hundreds of times, wishing I was rich and lived in California.
One of my favorite parts of the entire film was when Cher got dressed for school using her computer to choose her outfit. I wanted that rotating closet and outfit-picking software so badly. And I still do today.
While I don't have a closet that size, or a program to help me pick my outfits, I now have Polyvore.com to create my own virtual closet online. And I'm obsessed with it.
Basically, Polyvore lets you mix and match items from any online store on the internet to create as many outfits as you want.
You can use pictures of clothes you already own to mix and match, or you can do as I did today and create outfits full of clothes, shoes, and handbags that you can't afford. Love it.
What do you think? Would you use Polyvore? Leave a comment!