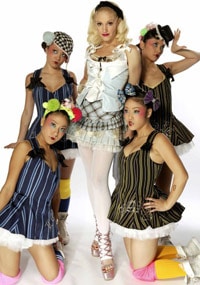 Gwen & the Harajuku Girls
Maybe it's because of the Gwen Stefani obsession, but Japanese-inspired fashion has been hot lately. Ever since Gwen released Love. Angel. Music. Baby., girls all over have had fantasies about going to Japan and shopping the boutiques for crazy Harajuku streetwear.
Unfortunately, there are two things stopping most people from living this dream: no money for a plane ticket and not speaking a word of Japanese.
Thankfully, there's a new website that will give you your Asian fashion fix, minus plane ticket and foreign language classes:
AsiaJam, a fashion website with cute and funky clothes from Japan, Hong Kong and Korea.
The site has some of the craziest and most unique fashion you can find anywhere on the internet at insanely discounted prices.
AsiaJam has dresses for 20 dollars, heels for under 30 dollars, fashion jewelry for 5 dollars apiece and so much more. There are tons of very unique outfits and accessories, plus lots of bright colors, which are popular for spring.
Check the site out and remember to look for the SALE section. There are lots of already inexpensive clothes at even lower prices. Oh, and be warned – some of the stuff is crazy, but bargains and trendy styles are there if you are willing to dig a little.