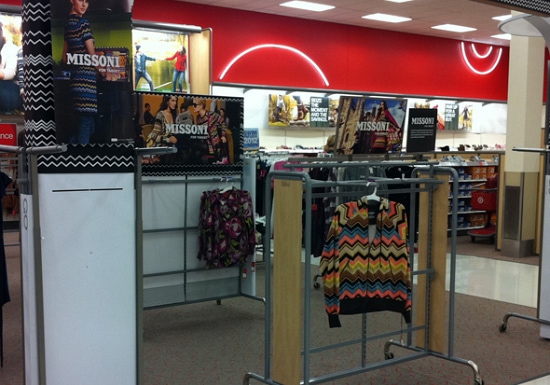 Empty racks of Missoni for Target | Photo Credit
As we're sure most of you fashion-savvy readers already know, Missoni for Target launched earlier this month and caused what was, in a word, pandemonium.
Due to the high volumes of traffic for the Missoni collection, Target's website crashed shortly after launching and remained down for most of the day. Those who were able to place orders, however, might not be receiving their items for another month due to all the demand, while others found out their orders had been inexplicably cancelled.
Things weren't much better at Target stores, either. Customers were stealing from shopping carts, fighting over items and someone even received a death threat over a towel. (We're not joking.) What were these people doing with all those Missoni for Target goods? It seems like many of them decided to resell them for profit.
Upon closer examination, this theory seems correct: There are currently over 20,000 Missoni for Target items up for grabs on eBay. While some are reasonably priced, most pieces are going for double, triple or even quadruple the original asking price. There's even a woman trying to sell a pair of Missoni for Target rainboots for $31,000(!!!). That's the equivalent of a brand new car, a semester of college tuition, or perhaps even a down payment on a house. Crazy!
This doesn't seem to be a one-off scenario, either. Alexa Chung's new Madewell collection launched last week and the demand caused the website to crash almost immediately. Once the site was back up, many items quickly sold out and — sure enough — some of those pieces were found on eBay for a marked-up price.
Of course, demand for limited-edition designer items has always been high (remember Cavalli for H&M?), but given that both the Missoni collection and Alexa Chung's line weren't expected to sell out fast, we're wondering if this might be the future of designer collaborations. Has the demand for these limited-edition items gotten a little out of hand? And if so, why now?
Now, tell us what you think!
What are your thoughts on this subject? Are these collabs worth the hype? Why do you think these collections have been selling out so fast recently? Do you have any stories about the Missoni for Target launch? We want to know what you think, so leave a comment below and let's discuss.